Kargil's brave women
Educating women was once considered a sin in Kargil. Now winds of change have swept the region, thanks to courageous women like Jameela and Khatija who, despite opposition from a conservative society and critics, have brought about a revolution in girls' education, writes Navreet Milton
KARGIL, 204 km from Srinagar, is the second largest town of Ladakh. It is situated on the confluence of the Suru river and Nullah Wakha at an altitude of 2704 metres. The population is mainly of Shias.



Jumbo task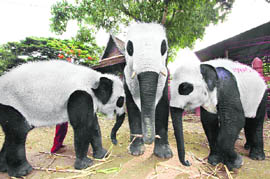 Elephants painted as pandas are seen at the Royal Elephant Kraal in Ayutthaya province, 80 km from Bangkok. Five of the elephants were led on a walkabout to send a message to the Thai public not to ignore its elephants, the symbolic animal of Thailand. A female panda and its newborn baby in the Chiang Mai zoo have captured the attention of the public
— Reuters/Sukree Sukplang

Jewels of the Highlands
Wester Ross boasts of some of the most beautiful and rugged scenery found anywhere in Scotland. Surrounded by high peaks and sea lochs, it is recognised as one of Europe's last wildernesses, writes Nivedita Choudhuri
THE popular image of Scotland for most travellers centres on its "Highlands and Islands". The landscape is as varied as it is beautiful. Rugged peaks, breathtaking lochs, glistening glens, a straggling coastline, with white sandy beaches, sheltered bays and rocky cliffs, looking out to the remote islands in the Atlantic, Scotland is wonderfully diverse land offering a wide scenic variety.
Smart way to good hair
During the rainy season, high humidity spoils your hair. Sweat on the scalp attracts dirt from the atmosphere. The hair lose shine and bounce. You need to take more care, says Dhanvanti Keshavrao
YOUR hair suffer the maximum during monsoons. Since the chlorine factor in the rainwater is high, a dunking in the rain is sure to make the hair look dull and lifeless. During the season, high humidity poses a real problem though it can be a bane to those with oily hair.
Master of the act
With around 400 films to his credit, Anupam Kher has few peers in the film industry. Shoma A. Chatterji on the versatile actor
Anupam Kher recently celebrated 25 years of presence in Indian cinema. A journey that began with Mahesh Bhatt's Saraansh has now turned full circle with the release of Morning Walk on July 10 where Kher, now 55, plays a role similar to the one he played in Saraansh, when he was 28. Kher has come a long way from his roots in Himachal Pradesh to flowering as one of the most versatile and gifted actors in Bollywood today.
Neil's journey in New York
After Aa Dekhen Zara, Neil Nitin Mukesh has hit the theatres with Yash Raj's
big-ticket New York. Ritesh Sharma chats up the actor
Working with Yash Raj Films is a big opportunity for you
Certainly it is. Everyone dreams of working with Yash Raj Films. And my association with the banner goes back long. In fact, before I came to acting, I started my career as an assistant director and I worked as an assistant in Mujhse Dosti Karoge.