Kargil's brave women
Educating women was once considered a sin in Kargil. Now winds of change have
swept the region, thanks to courageous women like Jameela and Khatija who, despite
opposition from a conservative society and critics, have brought about
a revolution in girls' education, writes Navreet Milton

KARGIL, 204 km from Srinagar, is the second largest town of Ladakh. It is situated on the confluence of the Suru river and Nullah Wakha at an altitude of 2704 metres. The population is mainly of Shias.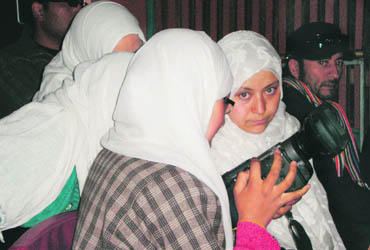 Kargil has seen a big change because of these enthusiastic women who, despite obstacles, have brought about a revolution in girls' education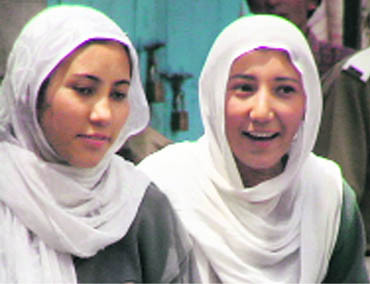 Girls of Kargil are now participating in state-level archery, badminton and table tennis championships

Education for women of the area was unheard of earlier. But now winds of change have swept the region. The transformation would not have been easy but for the initiative taken by courageous women like Jameela and Khatija, who felt that education for girls was imperative for society to progress.
Jameela was born in 1906 to Marayam and Ibrahim. Her parents moved to Shimla, where they used to work as labourers. In those days education for girls was thought to be a sin. Jameela lost her mother at the age of 14. She took care of her family but continued her studies in Shimla. "It was not an easy task," says Dr Fida, grandson of Jameela. Later, she moved to Kargil, and at the age of 23, she got married to Ibrahim.
The newly married couple shifted to Leh, where Islamia School welcomed her as the first woman teacher of the town. Says Dr Fida: "There she delivered religious talks to the community. In 1935 she was appointed a government teacher in Kargil and, thereafter, she decided to settle down there. Her mission to promote education amongst girls was taken up as a challenge, and she gradually established her status. The people from whom she expected support for her mission to make Kargil girls literate were the ones who opposed her."
There was a lot of opposition from religious preachers and from the male-dominated society. When she realised that people were not accepting the concept of education for girls, she started inviting girls from affluent families.
In order to motivate children, she taught them the art of designing woollen garments and stitching.
Jameela continued with her mission even after her retirement in 1972. She used to gather children from the neighbouring areas, bring them home and teach them. She died in 1993.
Says one of her students, who fondly remembers her: "She always told me that there is Allah in education, and the more you learn, the more close you are to him".
Khatija Begum from Skardu was born in 1929. After she completed her primary education, she started a campaign to spread education awareness in Kargil, the first of its kind in the town. She remembers her days of childhood when her family used to be criticised for imparting education to the girl child.
She further narrates: "I always enjoyed reading and writing. I used to cover a distance of six days on horseback from Skardu to Kargil to take my exams. There were no proper roads, and the terrain was bad."
Khajita Begum studied history, maths, Urdu, Hindi and English, which was a great achievement for a girl from Kargil. In 1950 she became the first woman teacher to be appointed in the local government school. Today she thanks Allah for the opportunity given to her for the noble cause of imparting knowledge and spreading education in a rather conservative society.
Excitedly, Khajita Begum says: "My daughter, Kaneez Fatima, was the first girl from Kargil to become a graduate when she passed out from Women's College, Srinagar."
Kaneez Fatima, too, faced a lot of criticism from friends and society during her formative years. After the completion of Class X even her relatives opposed her further education. But her parents stood firm on their decision to impart education to Kaneez and her siblings.
After her graduation from Srinagar, she returned to Kargil to pick up a job as a teacher in Girls' High School. Kaneez later joined the Education Department.
Education for girls was low on society's priority list, and she had to really work hard and motivate families to allow girls to get educated.
A friend of her adds that after her promotion as Tehsil Education Officer, she used to move to distant villages and organise activities to promote education of girls.
A small group of socially aware people has formed the Women and Children's Welfare Association, of which she is the main functionary. The organisation is working to address development issues concerning women and children.
It has been a daunting experience for women like Kaneez to rise against the popular view that education is not vital for the fairer sex. Today Kaneez holds the position of Deputy Commissioner at the Delhi headquarters of Navodaya schools.
Zahra Banoo (39) broke a lot of barriers to enter politics. She registered her name as the first woman of the Ladakh and Kargil regions to contest elections for a local administrative body, which were held in September, 2008. "I joined politics as a challenge to prove that the women of Kargil can rub shoulders with men in the male-dominated political scenario. As a regular citizen, many a time I had approached the local authorities with the problems of women of Kargil, but these were never attended to''.
Kargil has seen a big change because of such enthusiastic women who, despite obstacles, conservative society and critics, have brought a revolution in girls' education. "I firmly believe that if a woman is educated, then her entire family is educated," says Manzoor Ali, who is educating his three young girls.
Kaneez says that girls now even take participate in sports. In 2006 girls started taking training in taekowondo. "Though it was not easy to introduce such games in the school curriculum, my inspiration—Jameela and Khatija—motivated me to do so. We used the media to convey the importance of sports. Lectures were given in mosques, and religious preachers were instrumental in helping us spread awareness. Girls have now also been participating in kho-kho, archery, badminton and table tennis competitions''