Tribune Impact
Police nabs tipplers
Chandigarh, July 8
After The Tribune highlighted the issue of drinking in open outside liquor vends, the Chandigarh police today got into action and conducted a special drive to nab those drinking in open.


What do officers say
Stealing power is a criminal offence. We have started patrolling these areas to look for encroachments on green belt and the source of electricity provided to security men. Defaulting officers would have to face penalty as per provisions laid down in the Electricity Act. Even a case could be registered against them.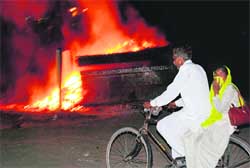 Ban goes up in smoke: A heap of garbage is set afire in Chandigarh on Tuesday night. A Tribune photo: Vicky Garu
Act strict against violators
The administration should act strict against the violators. An FIR should be lodged against officials for stealing power just as it was done with the Sector 22-based Tehal Singh. Under the Civil Servants Control rules, negative remarks should be included in their ACRs.
Electricity Act says
The Electricity Act, 2003, says that unauthorised extension of load or using power for a purpose for which it has not been granted permission is an offence. Under Section 135, there is conviction for using load in excess of 10 kilowatt. The fine would be at three times in case of the first conviction and six times in the second conviction.
MC sets up flood control centre
Chandigarh, July 8
The Municipal Corporation, Chandigarh, has set up a flood control centre in order to solve any problem pertaining to monsoons. The control centre will be operated round-the-clock in three shifts.
Paying Guest Accommodations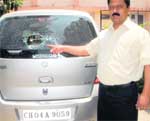 A pain in the neck for residents
Miscreants smash windowpane of a car in Sec 15
Chandigarh, July 8
Paying guest accommodations are increasingly becoming a source of nuisance for the city residents. In a yet another incident of lawlessness, some miscreants smashed a windowpane of a car in Sector 15 after they failed to call the girls residing at a paying guest accommodation in the locality.
The damaged rear windowpane of a car at Sector 15, Chandigarh, on Wednesday. A Tribune Photograph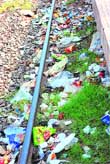 Rly station stinks of neglect
Chandigarh, July 8
The Chandigarh railway station, which looks fresh like dew during VIP visits, is actually a neglected orphan. Despite being the capital and one of the major railway stations under the Ambala division, cleanliness is a concept heard on rare occasions here.




Waste material, polythene bags at the railway track in Chandigarh railway station. Tribune photo: S. Chandan
Veterans term govt move as erroneous
Chandigarh, July 8
Members of the ex-servicemen fraternity have termed the Finance Minister's announcement on one rank one pension (OROP) in his Budget speech as a skillfully crafted statement that has created a wholly erroneous impression that it has finally been granted by the government.
Another inmate pregnant at Ashreya
Chandigarh, July 8
Welfare homes at Chandigarh continue to be "pregnant" with controversies. After the Nari Niketan "rape in protected environs case", an inmate of Ashreya has been found to be pregnant.
Power cuts affect water supply
Sectors 63, 65, 70, 71 at the receiving end
Mohali, July 8
The failure of the Public Health Department to pay Rs 2 lakh to the Punjab State Electricity Board for a power hotline connection to a water treatment plant is causing a great inconvenience to thousands of consumers.
Tribune Impact
Tent at Bougainvillea Garden to go
Chandigarh, July 8
A day after The Tribune highlighted that a security tent had been set up in the Sector 3 Bougainvillea Garden, the administration today sent an official communication to the DC to take notice of the tent of Haryana Armed Police personnel deputed for the security of the Haryana CM.
Concealed income worth Rs 35 cr surrendered
Chandigarh, July 8
The search operations conducted by the income tax department at the premises of Bansal Textiles and a related group yesterday, led to the detection of undisclosed income to the tune of Rs 35.5 crore today.
Engineers submit memo to principal secy
Mohali, July 8
Members of the Punjab Irrigation Engineers' Class-I Association has urged the government to withdraw orders issued in connection with the holding of a meeting of the departmental promotion committee (DPC) for carrying out promotions failing which the engineers would go on a three-day mass casual leave from July 13.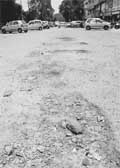 Parking lots neglected in shopping areas
Mohali, July 8
Parking lots in the shopping areas in different parts of the town are in a state of neglect, which have not been repaired for years. Most of the parking areas in the markets have ample potholes or other damaged portions and require recarpeting. Rain adds to the woes of thousands of shoppers who use these lots everyday, particularly in the evenings. The lighting arrangements in the parking areas, too, are in a state of neglect.

A parking lot cry for maintenance in Mohali. Tribune photo: Vicky Gharu
Police seek media help
Panchkula, July 8
Finding no clue for over one month in the missing realtor Deepak Rai Saggar's case, the police is now planning to take media's help.
Health officials initiate probe
Panchkula, July 8
The district health officials have started inquiry into the death of Indrajeet Walia at Charavarty Nursing Home, who allegedly died due to the negligence of doctors. Walia died after giving birth to a child at the nursing home on July 3.
Currency sells in black under RBI nose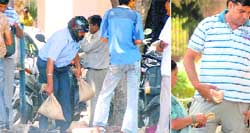 Chandigarh, July 8
Right under the nose of the Reserve Bank of India, Chandigarh, the illegal sale of Indian coins and currency of low denomination in "black" is flourishing, allegedly in connivance of bank officials.
Touts maintain record of the illegal business outside the Reserve Bank of India, Chandigarh, and another agent carries pouches of coins. Tribune photos: Vinay Malik
Gay couples tie the knot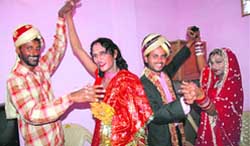 Chandigarh, July 8
Unfettering the chain of conventionalism and springing a surprise for the tricity, Sachin-Sanjana and Harnam-Sapna, the two gay couples from Mani Majara, tied the knot on Wednesday.

Harnam-Sapna and Sachin-Sanjna, the gay couples, dancing at their wedding at Abhaypur in Panchkula on Wednesday. Tribune photo: Manoj Mahajan

NGO to file mercy petition
Chandigarh, July 8
A city-based non-governmental organisation (NGO) will file a mercy petition in the Supreme Court of Pakistan for Sarabjeet Singh, who is on death row in the neighbouring country.

Sarabjeet's sister Dalbir Kaur at a press conference in Chandigarh on Wednesday. Tribune photo: Manoj Mahajan
Himachal MLA gets bail
Chandigarh, July 8
A local court yesterday granted bail to an MLA from Himachal Pradesh in a cheque bounce case. The JMIC, Dr Rajneesh, yesterday granted bail to MLA Neeraj Bharti of Kangra in a cheque bounce case registered in 2006.
Another suspected swine flu case reported
Chandigarh, July 8
Another suspected case of swine flu was reported at the PGI here today.
e wild wild web
Browsers' War
Like any commodity there is a never ending war among various Internet browser softwares in this age of globalisation where competition is a way of life.


Research scholar accuses guide of harassment
Chandigarh, July 8
Priya Anand, a research scholar at department of biophysics, Panjab University, in a written complaint addressed to the Dean University Instructions (DUI) has accused her guide, Professor Fateh Singh Nandel, of causing acute mental harassment.
'Hot' welcome for evening shift students
Chandigarh, July 8
Nearly 100 students of Government Model Senior Secondary School, Sector 10, were made to sit in blistering heat on a cemented floor for about an hour after having returned from vacation today despite having six vacant rooms.
Transfer orders of 10 principals issued
Chandigarh, July 8
Education secretary Ram Niwas today passed orders for transfer of around 10 principals during the reshuffling of the principals of the government schools, sources of the education department said.
Lack of arrangements mar counselling on Day VI
Chandigarh, July 8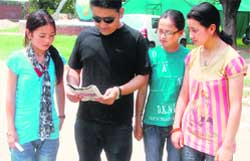 Complaints of non-functional air conditioners and LCD screen by parents of students seeking admission in Class XI in various government schools through the centralised process at Government Model Senior Secondary School, Sector 10, marred the counselling programme on the sixth day.
Students from Ladakh who have come to seek admission to Class XI in Chandigarh on Wednesday. A Tribune photograph
Aided-school teachers seek pension
Fatehgarh Sahib, July 8
The Government-Aided School Teachers' Association today demanded that the teachers working in the government-aided schools should be given pension and other basic facilities like other government employees.
40 attend training programme on women empowerment
Chandigarh, July 8
The Centre for Adult, Continuing Education and Extension, Panjab University, organised a three-day training programme on leadership development and women empowerment at aanganwadi centre, Khuda Lahora village. Forty women, including ex-sarpanches and panches, attended the programme.