PUNJAB
HARYANA
JAMMU & KASHMIR
HIMACHAL
REGIONAL BRIEFS
NATION
OPINIONS
LETTERS
BUSINESS
SPORTS
WORLD

BRIDES WANTED
GROOMS WANTED
OTHERS
HOW TO PLACE ADVTS
Thursday, July 9, 2009, Chandigarh, India
Updated at 3:00 am (IST)

Pak nurtured terror groups: Zardari


Pakistan deliberately created and nurtured militant and extremist outfits on its soil in order to achieve some short-term objectives, President Asif Ali Zardari said here in a remarkably candid statement.
Zardari to give up key powers: Report
Youth's death triggers clashes in valley
15 securitymen among 40 hurt in violence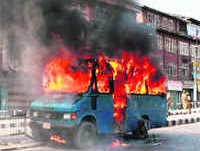 Srinagar, July 8
A missing youth of Maisuma, Asrar Dar, found murdered last night in a downtown locality sparked off day-long protests at several locations today.
ON THE BOIL: A police vehicle set on fire by a violent mob at Budshah Chowk in Srinagar on Wednesday. — Tribune photo by Amin War

CAST YOUR VOTE
Has the Budget come up to your expectations?

EDUCATION
JOBS & CAREERS
HEALTH & FITNESS
SCIENCE & TECHNOLOGY
REAL ESTATE
SPORTS
TRIBUNE CLASSIFIEDS
Brown backs India's bid for UNSC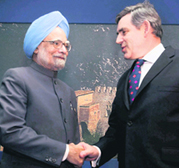 L'Aquila (Italy), July 8
India's bid to become a permanent member of the United Nations Security Council got a boost when British Prime Minister Gordon Brown expressed his support for New Delhi's demand to restructure the UNSC.

Prime Minister Manmohan Singh shakes hands with his British counterpart Gordon Brown at a meeting in L'Aqila on Wednesday. — PTI photo

World page: G-8 fails to agree to halve CO2 by 2050
NDA 60 Glorious Years
1857 The First Challenge
E - Revolution 2005:
A Two-day IT conclave
Assembly Elections - 2005
Turbans
Chandigarh is 50
125 Years of The Tribune
India: The Tasks Ahead
India at Sixty
A Tribune Supplement
EARLIER FEATURES
On Sundays
On Saturdays
Ranbir Case
CM okays CBI probe
Dehradun, July 8
Buckling under pressure, the Uttarakhand government has asked the Union Government to initiate a CBI probe into the "fake encounter" of 24-year-old MBA Ranbir Singh of Ghaziabad.
Ethnic unrest continues in China
Hu Jintao cuts short G8 visit to deal with riots
Urumqi, July 8
The worst-ever ethnic clashes to hit Communist China continued unabated today as more people were injured as Uyghur Muslims and Han Chinese settlers fought pitched street battles as the government poured in Army troops into the restive northwest region to stem the violence.
Ayatollah holds sway in Kargil, Drass
Twenty years after his death, posters of hardline Islamic cleric of Iran, Ayatollah Khomeini, dominate the Kargil-Drass National Highway that runs all along the Line of Control between India and Pakistan in the Himalayas.
Rains a damp squib in North
New Delhi, July 8
The monsoon continues to elude North India and the situation is not likely to improve in the future. Highly deficient monsoon rain is affecting sowing of major kharif crops in the country.
No new taxes in Punjab Budget
July 8, 2009

Pranab focus on rural poor
July 7, 2009
Panic strikes border villages
July 6, 2009
HC: Exhume bodies of Shopian rape victims
July 5, 2009
No hike in fare, freight
July 4, 2009
Survey sees 7% growth, urges radical reforms
July 3, 2009
Punjab to hike taxes to bolster economy
July 2, 2009

Advani, Joshi, Kalyan, Uma indicted
July 1, 2009

Maya under SC radar; reply on statues sought
June 30, 2009
No drought-like situation
June 29, 2009
Region sizzles as power plays truant
June 28, 2009