Jupinderjit Singh travels on the scenic Jammu-Udhampur rail route where reality belies expectations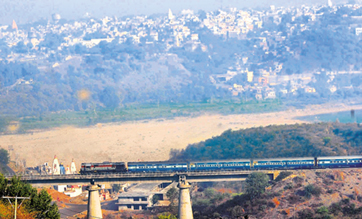 A train trip can be a fascinating experience for people of all ages. Imagine a journey between, around and through mountain curves and long, winding tunnels, over high bridges and dangerous khuds, over and along rivers, through thick forests, green fields and rich meadows.
The train winds through Jammu presenting a spellbinding view of the city. — Photo by Anand Sharma

Buy your own island
With land prices and rentals having collapsed to nearly 50 per cent, investing in an island is finding favour among the elite, says Pheroze Kharegat
If you want to buy or rent an island anywhere in the world, this is the time, the time of recession, when the prices and rental rates have collapsed to nearly 50 per cent of the early 2008 prices. "A private island is one of the best investments.
Life's Lessons
Power of speech
A group of frogs were travelling through the woods, and two of them fell into a deep pit. When the other frogs saw how deep the pit was, they told the two frogs that they were as good as dead. The two frogs ignored the comments and tried to jump up out of the pit with all their might. The other frogs kept telling them to stop that they were as good as dead. Finally, one of the frogs took heed to what the other frogs were saying and gave up. He fell down and died.
A Lesson in dignity of labour
Baba Aya Singh Rearki College at Tugalwala is a unique experiment in education for rural girls of Gurdaspur and Amritsar districts. Everything from cleaning the campus to cooking meals is managed by the pupils. The pass percentage is almost 100, reports Nirupama Dutt