TELEPROMPT
Why mayhem over gay ruling?
MANNIKA CHOPRA


MANNIKA CHOPRA
On Monday when Finance Minister Pranab Mukherjee, dressed in a white bandgala, presented the Budget, he must have disappointed people from investment banks who were anxiously watching the proceedings being telecast live on Lok Sabha TV (LSTV). This was no high-risk financial statement, full of revolutionary ideas pushing growth or introducing new projects. The Budget, read out by Mukherjee, almost at slow speed with a few gaps, didn't dazzle anyone in anyway. In fact, it affected the Sensex alarmingly as was shown graphically by Times Now. At best, it drew in mixed reactions from representatives of the corporate sector and the common people who had been diligently collected for their reactions by TV.
As economist-journalist Swaminathan Ankelshwar Aiyar said on ET Now, the Budget could perhaps be described as steady and focussed with a spotlight on the aam aadmi. And before you could say fiscal deficit, Mukherjee was being interviewed by Suneet Tandon on LSTV. Like the Budget, the interview, too, was steady and focussed, although why it took place in a darkened set with both the interviewer and interviewee basking in an intense spotlight was difficult to tell. Later, the same evening anchor Karan Thapar had his chance. Aired simultaneously on CNN-IBN and CNBC TV 18, this interaction was more probing, and by Thapar's standards, dare I say it, almost deferential. But it did expose some chinks, for instance, on the worrisome issue of fiscal deficit.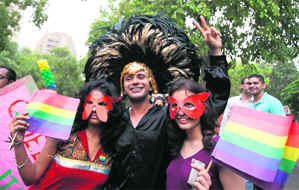 The gay community was in raptures following the repeal of Article 377

Unfortunately, CNN-IBN also exposed some chinks when it had eminent panelists like former financial adviser Shankar Acharya and N.K. Singh, hold up signs reading, poor, average and good in a kind of a quickie reaction to various aspects of the Budget. Not cool, guys, not cool. Hiding in the shadows of the Big B, was Mamta Banerjee's Rail Budget. Confidently, Kolkata's stormy petrel, dressed in white and green-checked cotton, read out her ministry's financial statement in her trademark Ben-jolly accent—a mixture of Bengali and English. Interacting with the press later, she even managed to draw in a few laughs when she insisted that she respected, and loved, former Minister of Railways Laloo Prasad Yadav.
Preceding the Budget was the huge media attention on the events that unfolded following the repeal of Article 377 of the IPC. I can understand the gay community turning cartwheels when the announcement came in last week but why was the media so excited? Every channel carried out lengthy discussions on what was clearly a landmark judgement, but as usual the folks in TV land lost perspective. It could have been because the government had earlier on tried to backpedal on the issue. I can't really say. But what was even more puzzling was why channels chose to have religious leaders give their comments on the ruling.
From Muslim clerics in Deoband to the more urbane spokespersons of the Catholic community, they were all being interviewed, although, surely, this is a human rights issue rather than a religious one. Predictably, the notes of disapproval were emerging from the protectors of the faith. While the government was giving a muted response, gays in all colours, stripes and shades were heralding their approval over the judgement.
If you are a slavish follower of Wimbledon, as I am, the final match between the Swiss Roger Federer and American Andy Roddick can only be described as simply sensational. Sensational, because although everybody, barring perhaps Roddick's wife and parents, thought that Federer would win, the kind of tennis Roddick played, actually outclassed the Swiss FedEx. The American was, as Vijay Amritaj said later on Star Sports in a post-match analysis, clearly the better player. He also was clearly the underdog, which was enough of a reason for him to get my support initially. With 14 Grand Slams to his credit and being watched by tennis legends like Pete Sampras, Bjorn Borg and Rod Laver and an eight-month pregnant wife as he was on the verge of getting his 15th Grand Slam, Federer had everything going for him.
Maybe the pressure was too much but uncharacteristically, FedEx was muffing things up whereas the doughty Roddick was getting all his shots bang on. Besides his Hall of Fame serve and killer forehand, Roddick was smashing those volleys. Having broken Federer's serve fairly early on in the match, he was so hungry for the win that we, seated thousands of miles away in front of our TV screens, could feel it. And yet he lost in a 5-7; 7-6; 7-6; 3-6; 16-14 result. For us, it was a treat to watch the explosive action and the flawless tennis, but for Roddick it seemed that this was one night when he was going to cry himself to sleep.
In comparison, the family contest between the William sisters—Venus and Serena—the day before did not even create a whiff of interest. Over in 81 minutes, it was so one-sided with Serena sailing through to the title. It was far more exciting to see the famous faces around centre court. There was Martina Navratilova and her guest Richard Branson, and a much more thickly set Billie Jean King, all bearing the ravages of age, but still continuing to remain legends.