PUNJAB
HARYANA
JAMMU & KASHMIR
HIMACHAL
REGIONAL BRIEFS
NATION
OPINIONS
LETTERS
BUSINESS
SPORTS
WORLD

Tuesday, July 14, 2009, Chandigarh, India
Updated at 3:00 am (IST)

Another Metro mishap injures 6
Accident occurred at the same spot where six persons were killed on Sunday
New Delhi, July 13
Only a day after six persons were killed due to the crashing of an under construction Delhi Metro elevated section in South Delhi, as many persons were injured today at the same spot during the site clearing operation. According to information, the mishap occurred when a part of the launching girder fell down while it was being lifted by four cranes.


Sreedharan takes back resignation

Tragedy 'divine retribution'

Delhi page: METRO MISHAP: THE DAY AFTER

Editorial: Mishap shakes Delhi Metro
CAST YOUR VOTE
Is better coordination among states affected by Naxalism needed to tackle the menace?

BRIDES WANTED
GROOMS WANTED
OTHERS
HOW TO PLACE ADVTS
EDUCATION
JOBS & CAREERS
HEALTH & FITNESS
SCIENCE & TECHNOLOGY
REAL ESTATE
SPORTS
TRIBUNE CLASSIFIEDS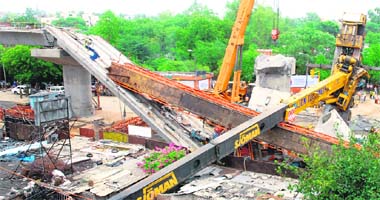 Collapsed cranes are seen at the accident site of a metro bridge in New Delhi on Monday. Tribune photo: Manas Ranjan Bhui
India, Pak may break the ice at NAM summit
When Prime Minister Manmohan Singh travelled to Havana for the NAM summit three years ago, his meeting with Pakistan President Pervez Musharraf on the sidelines of the international meeting had resulted in the resumption of the stalled formal peace talks between the two neighbours who also decided to set up a joint agency to combat terrorism.


World page: India hopes to forge nuclear ties with France
'One rank, one pension' for officers, too
New Delhi, July 13
Defence Minister A K Antony today clarified in the Lok Sabha that "one rank, one pension" recommendation of the Cabinet Secretary-led panel had been accepted by the government for jawans as well as officers.
Sabharwal murder accused acquitted
Nagpur, July 13
Nearly three years after he was allegedly beaten to death, six ABVP activists accused in the case of murder of Prof HS Sabharwal in Ujjain, were today acquitted by a court here for lack of evidence.
NDA 60 Glorious Years
1857 The First Challenge
E - Revolution 2005:
A Two-day IT conclave
Assembly Elections - 2005
Turbans
Chandigarh is 50
125 Years of The Tribune
India: The Tasks Ahead
India at Sixty
A Tribune Supplement
EARLIER FEATURES
On Sundays
On Saturdays
School principal on the run
Allegedly abused female staff for 28 years
Mumbai, July 13
Principal of a well known private school in Mumbai is on the run after a sting operation by local television channel allegedly caught him sexually abusing teachers, students and other female staff members of the organisation.
Ban on wheat export is back
New Delhi, July 13
An erratic monsoon has forced the government to cancel the permission for exporting nine lakh tonnes of wheat, just 10 days after it had eased the ban on overseas selling of the foodgrain by state firms.


Distance Education
KU degrees 'invalid'
Chandigarh, July 13
A large number of passouts from Kurukshetra University's (KU) distance education programme over the past 12 years are in the job market with "invalid degrees" of nearly 35-odd courses offered by the university's centre.
Delhi Metro bridge collapse kills 6
July 13, 2009
PM to G8, G5 nations: Tell Pak to shed terror
July 12, 2009
G8 pledges $20 bn for food security to poor nations
July 11, 2009
G8 non-committal on emission targets
July 10, 2009
Pak nurtured terror groups: Zardari
July 9, 2009
No new taxes in Punjab Budget
July 8, 2009
Pranab focus on rural poor
July 7, 2009
Panic strikes border villages
July 6, 2009
HC: Exhume bodies of Shopian rape victims
July 5, 2009
No hike in fare, freight
July 4, 2009