PUNJAB
HARYANA
JAMMU & KASHMIR
HIMACHAL
REGIONAL BRIEFS
NATION
OPINIONS
LETTERS
BUSINESS
SPORTS
WORLD

Friday, July 17, 2009, Chandigarh, India
Updated at 3:00 am (IST)

India delinks terror from composite dialogue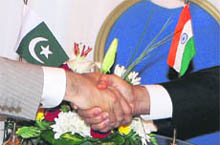 After three hours of hard-nosed negotiations, India and Pakistan today came out with a joint statement in which New Delhi appears to have bent somewhat on its earlier steadfast position of keeping the focus on terror.


Sarkozy assurance on turban ban

Prime Minister Manmohan Singh (R) shakes hands with his Pakistan counterpart Yousuf Raza Gilani during a meeting at Sharm el-Sheikh in Egypt on Thursday. — Reuters

CAST YOUR VOTE
Is better coordination among states affected by Naxalism needed to tackle the menace?

BRIDES WANTED
GROOMS WANTED
OTHERS
HOW TO PLACE ADVTS
EDUCATION
JOBS & CAREERS
HEALTH & FITNESS
SCIENCE & TECHNOLOGY
REAL ESTATE
SPORTS
TRIBUNE CLASSIFIEDS
NAM pledges to combat terrorism in all forms
Sharm El-Sheikh (Egypt), July 16
Taking India's concern on board, NAM countries today vowed to combat terrorism in all its forms and manifestations while making it clear that terror should not be associated with any religion, nationality, civilisation or ethnic group.
Maya-Bahuguna spat rocks House
New Delhi, July 16
Repercussions of Uttar Pradesh Congress Committee chief Rita Bahuguna's alleged vituperations against BSP chief Mayawati were seen in the Parliament today, with both the Houses being adjourned without the transaction of any business.


Nation page: 14-day judicial custody for Bahuguna

Cong regrets Joshi's utterances

26/11


US wants Pak to speed up trial
The Obama administration wants Pakistan to move ahead with prosecuting those responsible for the Mumbai terrorist attacks, according to a US official.
NDA 60 Glorious Years
1857 The First Challenge
E - Revolution 2005:
A Two-day IT conclave
Assembly Elections - 2005
Turbans
Chandigarh is 50
125 Years of The Tribune
India: The Tasks Ahead
India at Sixty
A Tribune Supplement
EARLIER FEATURES
On Sundays
On Saturdays
BJP, Shiv Sena to project Uddhav for M'rastra CM
Mumbai, July 16
The Maharashtra BJP unit has agreed to a major demand by the Shiv Sena to portray Uddhav Thackeray as the alliance's chief ministerial candidate of the alliance in the forthcoming assembly elections. The party took the decision last weekend at a meeting presided by its president, Rajnath Singh, according to sources.
36 former MPs 'illegaly' occupying govt bungalows
New Delhi, July 16
Former defence minister George Fernandes, Jagdish Tytler and Kanshiram Rana are among 36 former ministers and MPs whose cases have been referred by Ministry of Urban Development to litigation division for unauthorisedly occupying government bungalows in posh Lutyen's zone.
How this village kicked booze & drugs
Khera Mandar (Kapurthala), July 16
In the palatial house owned by Gurpratap Singh (name changed), a 72-year-old resident of this village, hangs a very special picture. A group of men, both old and young, gather around him and his wife in a gurdwara, while he holds on to a booklet and the guru's prasad.
New Delhi, Islamabad move closer to dialogue
July 16, 2009
Colours of India in France
July 15, 2009
Another Metro mishap injures 6
July 14, 2009
Delhi Metro bridge collapse kills 6
July 13, 2009
PM to G8, G5 nations: Tell Pak to shed terror
July 12, 2009
G8 pledges $20 bn for food security to poor nations
July 11, 2009
G8 non-committal on emission targets
July 10, 2009
Pak nurtured terror groups: Zardari
July 9, 2009
No new taxes in Punjab Budget
July 8, 2009
Pranab focus on rural poor
July 7, 2009