This Above all
The arrogant Mayawati
KHUSHWANT SINGH

We had pinned high hopes on Mayawati's rise to eminence as a Dalit leader. Her being elected as Chief Minister of Uttar Pradesh re-fuelled our hopes that another great Dalit leader had risen on the Indian horizon. However, our hopes were cruelly belied. Success went to her head and she began to indulge in delusions. "If I can become the Chief Minister of the largest state of the country, nothing can stop me from becoming the Prime Minister of India," she started saying.
She began to amass real estate in UP and Delhi, decked up herself in expensive jewellery, and purchased a fleet of aircraft, including a helicopter, for her personal use. A helicopter and a private plane are understandable for one who has to cover long distances necessary to fulfil duties, but luxury planes are not. She mocked people like Rahul Gandhi for staying in Dalit homes and eating with them as if Dalits were her monopoly.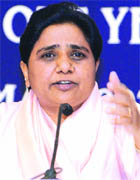 Mayawati has failed to emerge as a Dalit leader of eminence
Worst of all was her lopsided priorities. Parks and monuments came first. Dozens of marble statutes of BR Ambedkar, Kanshi Ram and her own came up in UP. Erecting one's own statues is nothing less than self-worship in the most vulgar form. She says they will become places of pilgrimage and inspire people. If there are any pilgrims, she will be the only one. If they inspire anyone, she will be the only one to be inspired. It never occurred to her that every one of these statues and the innumerable elephants of black stone could have given the poor hundreds of schools and clinics.
If anyone of her minions dared to tell her not to do so, he was fired or transferred. She did not want honest advisers but yes-men who endorsed whatever she wanted to do. Jee hazoor, sahiba, your wish is our command. This was all they could say. There can be little doubt that Mayawati has dug her own grave. To cap it all, she denounced Mahatma Gandhi as a natakbaz, "who made it a point to stay in colonies of people belonging to the lower castes in different cities only to enact a drama."
Bapu was, in fact, the first to rouse the country's conscience against indignities our forefathers had inflicted on Dalits. To describe him as a dishonest play-actor is an unpardonable act of arrogance for which no Indian will forgive her. One way a non-entity can get notoriety is by abusing a national icon. It is like one spitting at the sky. It will only fall back on the spitter's face. The only word I think appropriate to describe her is moorakh.
Ahmed Faraz
Ahmed Faraz died last August in Chicago. He was in his 60s. He was born in Nowshera and educated in Peshawar University. Like Faiz Ahmed Faiz, he was a frequent visitor to India and a great draw at mushairas. I have happy memories of evenings we spent together in Islamabad and Delhi. He had a great deal in common with Faiz. They experimented with new forms of poetry, were fiercely opposed to dictatorships and were put in jails for their defiance of authority. Both sought asylum abroad, but never compromised. And both were hard drinkers and chain smokers.
Despite knowing Faraz over the years, most of his poems I was familiar with were those sung by Mehdi Hassan. His melodious voice made many poets into literary celebrities. In the case of Faraz, it was Mehdi's rendering of Ranjish hi sahi and Ab kay hum bichhrey to shayad kabhi khwabon mein mileyn; Jis tarah sookhey huey phool kitaboon mein mileyn (the next time we meet will be in our dreams like dry flowers preserved in pages of books).
So I was happy to read some of his poems. I was not aware of an anthology of selected poems of seven poets recently published, entitled Masterpieces of Urdu Poetry — Gul-e-haft rung, compiled and translated into English by Amar Dehlavi (Star Publishers). One short poem Vapsee (return) specially attracted my attention. It is in two parts — the first about the break-up of lovers, and the second about yearning for a re-union. I did my own translation:
Us ne kahaa, sunn, ehad nibhane ki khatir mat aana;
Ehad nibhane vaale aksar majboori ya mehjori ki thakan say lauta karte hain
(She said: Listen to me. Don't come back only to keep your word. People who stick to their promises often do so because they feel they must, or being tired of loneliness, they decide to return to their old love).
Then come lines yearning for the lover's return:
Tum jao, darya darya pyaas bujhao;
Jin aankhon mein doobo;
Jis dil mein bhi utro;
Meri jalan aavaaz na degi;
Lekin jab meri chaahat aur meri khwaish ki lao itni tez aur bhi oonchi ho jai;
Jab dil ro de, tab laut aanaa
(Now you go and slake your thirst in every river. No matter whose eyes captivate you, I will not let my jealousy speak out. But when my love for you gathers stormy heights, and makes your heart cry out for me, than come back to me).
Threat to die
A medical student wrote a love letter in blood to a fellow girl student, ending with "You must reply, otherwise I will die". The girl replied: "Your blood group is B positive."
(Contributed by Rajeshwari Singh, Delhi)