COLUMNS

THIS ABOVE ALL
TELEPROMPT
GOOD MOTORING
AUDIO SCAN
MUSIC ZONE
WEBSIDE HUMOUR

FOR CHILDREN

CROSSWORD
ROOTS
RHYME TIME

Earlier Feature
TELEVISTA
With shorter versions of the game gaining popularity among spectators, sponsors and players as well, the ICC is mulling over restricting Test matches to just four days. Abhijit Chatterjee analyses the reasons
The phenomenal success of Twenty20 cricket and the IPL may have proved a shot in the arm of many cricket boards but this success has also sounded the death knell for the Test cricket if the rethink going on in the International Cricket Council (ICC) on the future of Test cricket is anything to go by.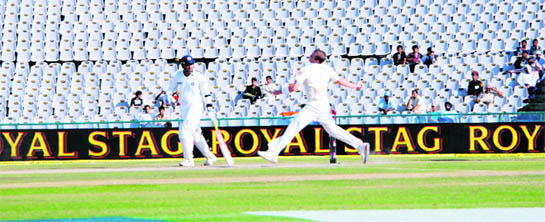 India play against Australia to an empty house during a Test match at the PCA stadium in Mohali — A file photo
Down in the dumps
Not only Test Cricket but the domestic cricket is in doldrums as well. The BCCI cancelled the Mushtaq Ali Trophy last season because of a crowded cricket schedule. It may do the same to the Deodhar Trophy this year for the same reason
Even as the ICC is contemplating to change the way Test cricket is played, nearer home the BCCI has gone as far as suggesting to scrap national-level tournaments in its effort to mop up more and more money. Therefore, it is the IPL, which is getting precedence in the BCCI's scheme of things and not domestic tournaments, the only arena where fresh talent could showcase their talent at the national level.
On the streets of Sharm-el-Sheikh
Smita Prakash retraces the footsteps of her father in Egypt's Sharm-el-Sheikh where he was posted with the United Nations Emergency Force 48 years ago
As part of the media team accompanying the Prime Minister to Egypt to take part in the 15th Non-Aligned Movement (NAM) Summit meet, I can't help but feel a sense of anxiety.