Cut above the rest
Few actresses in Indian cinema can claim such a rich and varied repertoire as Tabu.
Still she remains Bollywood's most under-rated actress, says Derek Bose
SHE is not your everyday Bollywood heroine. You'd hardly ever hear anything about her much less see her. She does not give interviews to the press. She does not appear (even in passing) on television. The last you'd have seen her on the big screen was two years ago, as Amitabh Bachchan's love interest, Nina in R. Balki's Cheeni Kum? Or was it as the Bengali housewife, Ashima in Mira Nair's The Namesake?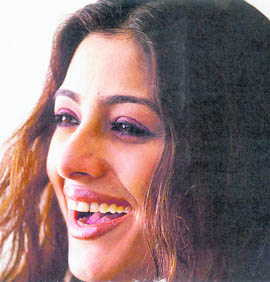 Tabu has been regularly working in films other than Hindi with as much confidence and conviction



As Nina in R Balki's Cheeni Kum, Tabu got into the skin of her character from the very first frame, without being over-assertive

Well, that's Tabu for you — reclusive, enigmatic, fiercely individualistic, understated yet extremely enchanting and enormously gifted. In the past 25 years, she has traversed the entire spectrum of possibilities Bollywood has to offer to an actress — from the flighty 'Ruk ruk ruk' girl of Vijaypath to playing Govinda's second wife in that David Dhavan laugh riot, Saajan Chale Sasural to suddenly changing gear as the distraught Punjabi woman caught in the politics of Sikh insurgency in Gulzar's Maachis. Then followed a series of thought-provoking films — Viraasat, Hu Tu Tu, Astitva, Chandni Bar, Maqbool and Meenaxi: A Tale of Three Cities. Tabu's image today as an actress of substance, is shaped by her performance in these latter-day films.
Few actresses in Indian cinema can claim such a rich and varied repertoire, with roles, one more challenging than the other. What's more, Tabu has been regularly working in films other than Hindi with as much confidence and conviction. Being essentially a Hyderabadi, most of the non-Bollywood films are in her native tongue Telugu, followed by Tamil (Kandukondain Kandukondain), Malayalam (Cover Story) and Bengali (Aabar Aranye). Hindi has given her the recognition of a pan-Indian star-actress, besides of course, two national and five Filmfare awards and countless other nominations and trophies. Oddly though, for all her talent and accomplishments, Tabu could never find herself in the ranks of frontline heroines like today's Kareena Kapoor, Priyanka Chopra and Katrina Kaif. She remains Bollywood's most under-rated actress.
Tabu came in at a time when Madhuri Dixit was at her peak and the only other serious contender for the top slot was Karishma Kapoor. Juhi Chawla and Raveena Tandon were also there, but they lacked the clout and consistency in the box-office to pose a threat to anybody. Aishwarya Rai, Preity Zinta and Rani Mukherji were nowhere in the reckoning then. With her inborn talent and beauty, Tabu (or Tabassum Hashmi, as she was known then) could easily have turned the situation to her advantage and made a mark for herself soon after Dev Anand gave her a break with Hum Naujawan in 1984. That sister Farah and aunt Shabana Azmi were already in the industry served as an added advantage.
But Tabu let the opportunity slip by, taking safe and convenient course of syrupy musicals and puerile romcoms like Pehla Pehla Pyar, Vijaypath, Prem, Sajan Ki Bahon Mein and Sajan Chale Sasural. In the bargain, she came to be perceived as a wannabe Karishma Kapoor, and a bad one at that. Worse, she began dividing time between Hindi and Telugu cinema (Sisindri, Ninne Pelladatha and so on), effectively being neither here nor there. In marketing terms, it was a case of a good product losing out because of bad positioning, the price for which Tabu is having to pay to this day.
The actress could easily have gone the way of some of her contemporaries like Meenakshi Seshadri and Sonali Bendre, if it were not for Gulzar bailing her out with Maachis and gifting her, her first National Award as bonus. But before him, there was Priyadarshan who could recognise Tabu's potential and signed her for his multi-lingual magnum opus, Kalapani in 1995. It was a period film on the atrocities of the British on Indian freedom fighters imprisoned at the Cellular Jail in Port Blair. As Parvathi, Tabu did not have much of a role, but the way she stood up against some of the giants of Indian cinema, including Mohanlal, Nedumudi Venu and Amrish Puri, brought her instant acclaim.
In Maachis, Tabu was in her elements – intense but restrained, as she played a young woman of rural Punjab who witnesses her brother and then her fiance being drawn into the vortex Sikh extremism in the aftermath of Indira Gandhi's assassination during the mid-1980s. The controlled, low-key performance was to be her signature style in later films, whether it was as Mohnish Bahl's devoted wife in that glitzy family drama, Hum Saath Saath Hain or as the kidnapped daughter of a minister in Gulzar's political potboiler Hu Tu Tu, as Anuradha Panikar in Priyadarshan's comedy of errors Hera Pheri or as the tormented wife/mother in Mahesh Manjrekar's convoluted Astitva, a writer's enigmatic muse in Meenaxi: A Tale of Three Cities or as Irfaan Khan's wife in Mira Nair's film on cultural assimilation, The Namesake.
But three films stand out by way of being inextricably associated with Tabu, as though they were conceived only for her. It is unlikely that anybody among the current crop of Bollywood heroines could have pulled off Mumtaz's role in Chandni Bar with such felicity dignity and effortless ease. Tabu literally lives and breathes the character – the way she loses her innocence and is conned by her maternal article to being a bar girl, the temporary reprieve she gets on marrying a local goon (till he is gunned down), her return to a life of prostitution, watching her son turn into a killer and daughter becoming a bar dancer... True, the script provides enough scope for drama, but it is Tabu's understanding of the character and grip on her role that prevent it from turning loud and melodramatic. She got her second national award from this performance.
In Vishal Bharadwaj's Maqbool, we again see a supremely composed and confident Tabu, as she lends a new dimension to the Lady Macbeth character, Nimmi. She is hand-in-gloves with her lover who plots (and succeeds in the) murder of the senior don whose mistress she is. She comes across as calculative, even crafty, but certainly not cunning – manipulative but not wicked. Articulating these subtle shades of temperament can be a major challenge to the most accomplished artiste. But Tabu takes full advantage of an incisive camera and with a flicker of eyelashes here and a half-smile there conveys her emotions louder than words can. In the end, you would hate to believe that it was actually a negative role she was cast in.
The third noteworthy film to be identified with Tabu is Balki's Cheeni Kum, even as its strength lies in a clever story idea. A man in his sixties falling in love with a woman half his age is not an altogether unlikely occurence and can raise amusing possibilities in film. But when this man happens to be Amitabh Bachchan and the script hinges on him from start to finish, the bar for the heroine gets automatically raised. The very real danger for Tabu here was to be overshadowed by Bachchan's presence, more so, when he had all the good lines. The way she could get into the skin of her character from the very first frame, methodically negotiating the twists and turns of drama and without being over- assertive, providing a perfect foil to the love-struck hero holds valuable lessons for students of cinema, particularly acting.
Tabu has a few films in hand—Season's Greetings, Toh Baat Pakki, The Legend of Kunal, Banda Yeh Bindaas Hai—not much is known about them, but one thing is for sure: She is bound to impress. For, this is one Bollywood actress who just gets better and better with every film. Her best is yet to come.