A dream come true: Kamal Haasan
N Ravikumar
Tribune News Service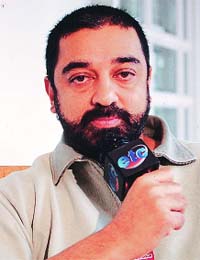 Chennai, July 19
Starting off his career as a four-year-old boy in Tamil film "Kalathur Kannamma", Kamal Haasan has risen to the ranks of top heroes in Indian cinema. He delivered a string of Bollywood hits like "Ek Duje Ke Liye" (1981), "Sadma" (1983) and "Saagar" (1985). While giving box office superhits in Bollywood as well as south Indian film industry, he has created a niche for himself in parallel cinema also. His dedication, superlative acting skills and amazing comic timing have won him the national award for the best actor more than once.
Apart from being a talented actor, Kamal is an intellectual who writes scripts and directs movies. Loved and idolised for his zeal for experimentation and films with social messages, Kamal is an inspiration for many. A professed atheist, Kamal's Marxist leanings have not prevented him from surviving in the commercial and competitive cinema world for over four decades.
Kamal is currently involved in a self-organised workshop where renowned writers and directors give lessons to potential wannabes on script writing. It is amazing to see Kamal don the role of an avid student, with a writing pad and pen, at the workshop.
In an exclusive interview, Kamal speaks about the workshop and his association with it.
Q: Can you explain the reasons for organising such a workshop for young writers?
Kamal: This is my dream for the past thirty years. When I entered the film world, I wanted to learn about film script writing. But, no one taught me anything. I wanted a good understanding of film scripts. I watched many Hollywood movies. Most of them were watched atleast six to seven times. But, still I was not able to understand script-writing techniques fully.
Q: Then, how did you learn script writing?
Kamal: Finally, I met Anandhu, (a close associate of popular Tamil film director K Balachander, who directed "Ek Duje Ke Liye"). He taught me the intricacies of script writing. I also read many books. I had to sacrifice my sleep to study those books. Most of the writers, who knew the art of script writing, maintained it as a secret among themselves. When I approached many writers to learn the art, no one came forward to teach me. They were reluctant even to discuss the subject with me. I wanted to teach the art of script writing to upcoming writers, who find themselves in the same situation, where I found myself then. Every parent thinks that his child should learn what he was not able to learn. This workshop was arranged with a similar motive.
Q: Who are the teachers involved in the project?
Kamal: I met three people who could realise the dream -Anjum Rajpali, Atul Tiwari and Hariharan. Anjum was a teacher in Pune Film Institute, who fought for a separate teacher for script writing in the institute. He can easily explain even the most delicate and tough subjects. Tiwari belongs to the National School of Drama. He is well versed in film stories, screenplay and translation. Hariharan is a student of Pune Film Institute and a good filmmaker. He is moulding several experts in Prasad Academy.
Q: Is it a financially viable venture?
Kamal: Money is not the motive. I do not want to increase my bank account by this project. This is a dream come true for us. Earning money is not the objective. It is sufficient, if at least three people from the workshop became prospective screen writers.
Q: Do you believe individuals can bring about drastic changes?
Kamal: Anything is possible, if the energy of an individual emanates through many people. People say the same kind of subjects were done during when renowned film stars MGR and Sivaji Ganesan were in their peak. This is not true. Many new experiments were tried under their shadow. My film "Hey Ram" was influenced by one such movie. Tamil story writer Jayakanthan (A Sahitya Akademy winner) also tried new experiments. The experiments are continuing.
Q: Do you have plans to provide opportunities to participants in the workshop?
Kamal: I am involved in producing in 30 short films, based on Chennai. Scriptwriters for the films will be handpicked from this workshop.
Q: Are you planning to go to other cities also?
Kamal: We will begin with Chennai. We will go to other cities as well. We are not making documentaries. It's about the fictional world of writers as they look at Chennai. Oscar-winning French scriptwriter, Jean Claude Carriere, will guide some of these short films.