Ashley allure
Meet the man behind the Kambakht Ishq look. In the city, designer Ashley Rebello gets talking of couture and celluloid


Poor passing-out kids are going to have a tough time! Ashley Rebello, for 'the early age men' not connected to even the F of fashion, we'll just introduce him. For the rest, the star designer was here to judge the collections of the students to be displayed at Designer Medley '09, the annual passing out fashion show. The stylist talks of what'll he give scores to students for and more; as he catches up at INIFD-8 campus, before the show.
Neil art
In the city for promoting his new movie, actor Neil Nitin Mukesh bares the fact and fiction…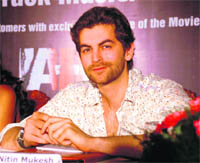 "Terms like offbeat, parallel cinema, alternate films don't exist for me. Why should one put movies in a genre? Films are just films, and I treat them as such," Neil Nitin Mukesh clears himself of any tags. The latest showstopper in Bollywood believes in his audiences' and his own sensibilities to make a film work. "I think the gap between alternate and commercial cinema has been brigded. Filmmakers are not compromising with the scripts and the audience too has grown smart.
Suit-able for the role
Hillary back to conservative roots with the trademark colourful pantsuits

she's sporting in India
In May 2009, Hillary Clinton watcher and former editor of Vanity Fair, Tina Brown, wrote in The New York Times, "It's time for Barack Obama to let Hillary Clinton take off her burqa." But that does not seem likely. The 61-year-old US Secretary of State Hillary Rodham Clinton has returned to her conservative Illinois roots with her trademark colourful pantsuits that she is sporting in India---a far cry from the show of cleavage in the US Senate in July 2007, where her black top with a low neckline created a virtual flutter.
Bangalore beckons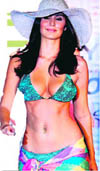 Designers Parvesh-Jai to showcase bridal wear at the upcoming Bangalore Fashion Week
Designer duo Parvesh-Jai, known for its resort wear collection, are all set to showcase their bridal wear line at the upcoming Bangalore fashion week (BFW) from July 23-26. The duo will showcase their label "Raasleela", that caters to Indian ethnic and bridal wear, on the inaugural day of the BFW. "The collection is targeted at brides hence the line has a delightful range of saris, lehengas to cater to every occasion. The wedding season is just a few months away and this is the right time to come up with this colourful yet elegant range," Jai said.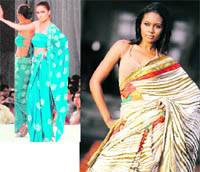 What holds back many professional women from draping that six-yard wonder to work? And why some swear by it…
The traditional sari is making a stylish comeback in the wardrobes of young women in cities, with corporate honchos, politicians and actresses inspiring the new generation to drape it not only as evening wear but also to office. "Most of the young generation wears saris to parties, evening get-togethers because you stand out and it is a most sensual attire. It looks great on every woman, irrespective of their body type," ace designer Ritu Kumar, known for her ethnic Indian saris, said. Kumar feels the sari will remain special because of its elegance.

Just a second!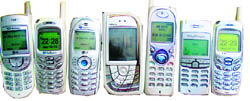 The market for second-hand mobiles in the tricity is expanding. We find out why…
Your mobile conked off suddenly leaving you in a fix, and two options to choose from — one, you can shell out money (appreciable amount) from your pocket and buy a new handset, or go in for a second-hand one. What's this, it's got you thinking. Didn't like the deal? Is money a problem or the secondhand mobile set? Probably both. Well, here is some good news that comes from people who deal in mobile phone business in the tricity.
Auto Mode
Bet on Yeti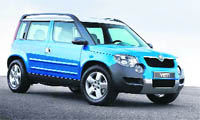 Here's a comment entered in my notebook during the presentation of Skoda's new Yeti. It suggests it is not abominable at all. "An SUV I really warm. This newspaper is no fan of the conventional SUV, but I can see the appeal of smaller, gentler, nimbler and greener incarnations. The Yeti is one of those, and sufficiently MPV-like to be considered a "crossover", albeit further towards the mud'n'rocks end of the scale than rivals such as the Nissan Qashqai and the new Peugeot 3008.
Geek Speak
Guessing game
Are you making yourself a target for fraud? I often hear stories of people who have had their accounts hacked. They have had money stolen, lost sleep, spent hours setting up new accounts, or had their credit ruined. Don't let this happen to you.  
GizmOh!
Second opinion
Would you like to go in for a second-hand mobile phone? Here's what some tricity geeks' first reaction was…
Launch Pad
Safe & secure
K7 Computing, has crossed a milestone by acquiring 9 million customers world-wide. To commemorate this, the company has announced 'Buy, Register and Fly Program", for customers purchasing K7 antivirus products.
Stree shakti
Anuradha Pal enjoys her status as the most sought-after female tabla artiste and percussionist in a male- dominated field


The world-renowned star tabla virtuoso and percussionist Anuradha Pal is reigning supreme as the only female percussionist to have represented India to major festivals. She has emerged as a colossus on the percussion firmament as a tabla soloist and accompanist with top Indian and foreign classical musicians and dancers in major festivals in the UK, USA, Europe, Japan, Australia, New Zealand, Hong Kong, Singapore, Bangkok and Africa.
Can the coming solar eclipse cast a shadow on the food you eat? Here's a slice of views from tricity folks…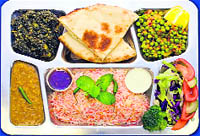 As astronomers and amateur stargazers stare heavenwards to witness the longest total solar eclipse of the 21st century on July 22, we in our country will witness a frenzy of all kinds, where people will turn to age-old beliefs and practices to safeguard themselves and the family from the ill-effects of a total solar eclipse. While the celestial event has already been drawing a lot of debate, from spiritual to scientific, we at Lifestyle ask the tricity folks- Is this day a rare opportunity to witness the grand or a day to dread the unknown?

Spade work
Monsoon menace
Most of them were hiding somewhere, like what most of us wanted to do during the summer months. Now, when the weather is good we want to move out to enjoy, they are out too, as this is the time for them to feed and breed. Yes, I am talking about insects that become active at this time. But why particularly this time?