Man held for drug peddling
Bassi Pathana, July 23
The police during a special checking today arrested a drug peddler and seized 700 gm poppy husk.
Residents hold dharna outside MC office
Bassi Pathana, July 23
Perturbed about the rampant corruption among the council officials and the routine absence of executive officer and sectional officer from the council office, residents sat on a dharna, organised by the Bassi Welfare Organisation, in front of the council office today.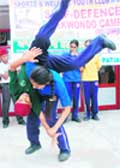 Participants in action during a tae kwon do camp at Narayan Public School in Patiala on Thursday. Tribune photo: Rajesh Sachar
Kharar ashram shelters mentally challenged
Kharar, July 23
The Universal Disabled Care Taker Social Welfare Society, Padiala, is offering shelter to mentally challenged and abandoned persons.
Hotelier cries foul
Fatehgarh Sahib, July 23
The district forest department today removed the encroachments in front of a renowned hotel situated on the GT Road near flyover chowk in Sirhind.
Midday meal ration rots in open
Fatehgarh Sahib, July 23
The ration stored at Government High School of Talaniya village, under the midday meal scheme of Sarv Shiksha Abhiyaan, is rotting in open.
Talk on disaster mgmt measures
Patiala, July 23
Punjabi University, Patiala, will be launching a crusade to promote the cause of disaster management by holding programmes, seminars and live demonstrations.
Illegal structures razed in Patiala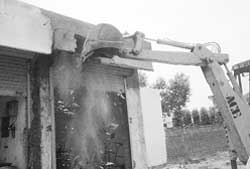 Patiala, July 23
The Municipal Corporation here launched a massive drive against unauthorised constructions in the city, sending a loud and clear message to encroachers that they would face stringent action if they chose to hoodwink the law.


In a drive against unauthorised constructions, a JCB machine razes encroachments on the Sirhind road on Thursday. A Tribune photograph
Engineers for revised pay scale
Ropar, July 23
The All-India Power Engineers Federation (AIPEF) has supported the wage revision demand of employees who were on strike and engineers of Maharashtra power utilities.
Lal Singh seeks vote in PMís name
Zirakpur, July 23
Former Congress finance minister Lal Singh sought votes in the name of Dr Manmohan Singh. Addressing a rally in favour of Deepinder Singh, the party candidate in the Banur byelection, he said people should judge the parties from the ideologies they were harping on and the leaders who represent them.
Man duped of Rs 25,000
Ambala, July 23
A case of cheating was reported today from the LIC office in Ambala Cantt. The incident concerns Harish Arora, a fruit commission agent in sabzi mandi. He had sent his servant Ram Kripal Singhan to the LIC office to repay a part of his loan, Rs 25,000, taken against an LIC policy.
Delegation meets CM; seeks Rs 10-cr aid for development
Kalka, July 23
A delegation headed by Vijay Bansal, former state secretary of the Congress, submitted a memorandum to Haryana Chief Minister Bhupinder Singh Hooda on the inaugural function of ITI, Kalka, yesterday.
Traffic disrupted for 2 hours at Pinjore
Kalka, July 23
Due to the damage of main pole and high-tension wire of 25 KV on Pinjore-Nalagarh level crossing near Model Town, Pinjore, the rail and road traffic was badly disrupted today.


Two cops convicted
Chandigarh, July 23
The CBI special court of Darshan Singh today convicted a UT police sub-inspector and a head constable in a corruption case dating back to 2007.
Charges framed against 2 more
Chandigarh, July 23
After a fresh charge-sheet was submitted by CBI officials in a corruption case involving two UT policemen, a CBI special court today framed charges against the two.
Man gets 10-yr jail for possessing charas
Chandigarh, July 23
Holding Rajbir, a resident of Karnal, guilty of carrying 8.5 kg charas in March, 2007 under the NDPS Act, a local court today sentenced him to 10 years of imprisonment and imposed a fine of Rs 10 lakh.
Judges not above law: Bar Assn
Mohali, July 23
The District Bar Association, Sahibzada Ajit Singh Nagar, has urged the Prime Minister, the Speaker of the Lok Sabha and the Law Minister not to treat judges above law.


GMSSS-33 student booked for eve-teasing
Chandigarh, July 23
Based on the complaint of the authorities of Tender Heart School, a student of GMSSS, Sector 33, was booked by the police for allegedly eve-teasing girls of Tender Heart School.
Man held for eloping with sister-in-law
Panchkula, July 23
The police traced Rohit, a resident of Sector 7, here today, who eloped with his sister-in-law. Both were arrested from a hotel in Chandigarh, the police added.
3 held within hours of robbery
Chandigarh, July 23
The police yesterday arrested three youngsters within hours of a robbery in Sector 15 on Tuesday night.


City lose berth in final over toss
Chandigarh, July 23
After winning the Katoch Shield and ML Markan Trophy earlier, Chandigarh district failed to make it to the final of Dhruv Pandove Trophy, the third inter-district tournament of the year, here today.