Not seeing stars
Roopinder Singh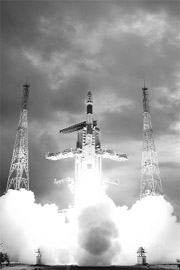 The Chandrayaan project has given a fillip to the country's capacity to make more efficient rockets and satellites
India joined the elite club of nations—the USA, Russia, the European Space Agency, Japan and China— that have a lunar mission with the launch of Chandrayaan-I in October 2008.
The Indian Space Research Organisation rightly deserves credit for the feat. Chandrayaan-I cost a fraction ($80million) of the cost of the Chinese lunar probe ($187m) and Japan's probe ($480m).
The recent news that one of its major sensors is not working any longer has to be tempered with the fact that Chandrayaan-I, is still performing its tasks, albeit from a modified orbit, and with less functionality.
Chandrayaan-I's mission included creating a three-dimensional atlas of the Moon, study its chemical and mineral composition, look for Helium-3 — which could be a future energy source — and search for the presence of water-ice.
It is carrying a total of 11 instruments, including high-resolution cameras and spectrometers. Five instruments are Indian, six of have come from NASA, the US space agency, the European Space Agency and Bulgaria.
ISRO maintains that Chandrayaan-I has sent more than 70,000 images of the lunar surface and made 3,000 revolutions around the moon.
No doubt, there have been problems, and some were noticed in January, when the temperature within the satellite rose to 80 degrees Celsius, double the optimal level. However, in any such mission, 100 per cent success is not hoped for, nor expected.
The star sensor failure, detected on May 16, is blamed on "excessive radiation from the sun". However, ISRO has maintained control on Chandrayaan-I by activating the gyroscope, which has assisted in orienting the satellite.
ISRO should draw lessons for the future from the functioning of Chandrayaan-I. Was there too much emphasis on keeping the cost low? Work on Chandrayaan-II and other moon missions must continue in right earnest, while more attention should be paid towards building redundancies for such critical missions.
Though we have no reason to doubt the ISRO chief G. Madhavan Nair's assertion that more than 90 per cent of the objectives of Chandrayaan-I have been achieved, the fact is that it is now burning more fuel and transmitting lower resolution images. While the mission continues, the component failures have put a cloud over ISRO's first giant leap to the moon. However, there is no doubt that the Chandrayaan project has given a fillip to the country's capacity to make more efficient rockets and satellites, and given fresh avenues for young Indian scientists.