The former Pakistani President and military ruler, Gen. Pervez Musharraf, speaking about the Kargil operation on its 10th anniversary, has called it "a big success because it had (an) impact even on the attitudes of the Indian side". It was because of Kargil that India agreed to "discuss Kashmir", he added.
In an interview with Karan Thapar for CNN-IBN's programme "Devil's Advocate", to be broadcast on July 26 at 8:30 p.m., the General defended the controversial Kargil operation for which Pakistan was widely criticised and which, in due course, led to the overthrow of the Nawaz Sharif government. Excerpts from the interview: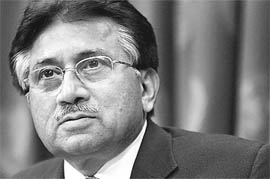 Musharraf: "Yes, indeed, it was a big success because it had (an) impact even on the attitudes of the Indian side. How did we start discussing the Kashmir dispute? How was it that the Indians agreed that we will discuss Kashmir and there must be a negotiated settlement? Before this there was no such thing at all. Kashmir couldn't be spoken. Kashmir must not be mentioned even in the United Nation's speeches by our leaders. This was the Indian side. (So) how did the Indians come to the negotiating table on Kashmir?
Karan: So in other words, Kargil changed the Indian attitude and response to Kashmir?
Musharraf: Yes, many things (did) – Kargil, mujahideen activity, India-Pakistan confrontation. All that, yes. (As a result) the Indian leadership perceived that Pakistan is now beyond coercion. And therefore there has to be some political negotiated settlement of this dispute."
Questioned about the impression created by Chapter 11 (page 91) of his memoirs, 'In the Line of Fire', that the Pakistani forces were involved in the Kargil operation – thus giving a lie to the earlier Pakistani claim that Kargil was conducted by alleged freedom fighters and the Pakistani army was not involved – the General stood by what he has written in his book published in 2006. All he claimed was that these were "second line forces".
Musharraf: "What I have written is final. I am not going to get into the details at all.
Karan: You are not revoking or going back on what you have written?
Musharraf: No. Not at all.
Karan: So if the impression from Chapter 11 of your memoirs is that the Rawalpindi Corps and FCNA played a critical role in the planning and execution of the Kargil operation, you stand by that?
Musharraf: You must understand the arrangement. The Rawalpindi Corps has divisions under it and one of them is FCNA (Force Command Northern Areas). FCNA has under it the NLI (Northern Light Infantry), a second line force. Anywhere other than Siachen, it was the NLI which was deployed, which are the second line forces."
Musharraf claimed that Kargil ended with the Pakistani forces in a "very favourable" position: "It was certainly very favourable. It was not supposedly favourable. Because if you are talking about India-Pakistan, Indians had moved all their forces against Kargil and there was (as a result) weakness elsewhere. So we knew what the Indian forces are capable (of) and what we are capable (of) … the situation was very favourable in Kargil, in Kashmir and on the entire border. We were capable of responding to any Indian action."
In his memoirs, 'In the Line of Fire', General Musharraf reveals that on two occasions former prime minister Nawaz Sharif asked for his advice whether to declare a ceasefire and on both occasions the General refused telling him that the decision was his. Asked why he left the decision to Nawaz Sharif and didn't argue against a ceasefire, even though he (Musharraf) believed that the military situation was favourable, General Musharraf said:
"One, there was a ground military position, the other is that there was a lot happening internationally. Internationally there was the United States element putting a lot of pressure on the government to stop or whatever. So there was international pressure. And then there was the (domestic) political pressure. Whether the political situation was good enough to sustain that pressure. I therefore decided to only talk of the military (situation).
Karan: So you are saying militarily there was no need for a ceasefire but politically, given the international pressure, given perhaps the weakness of the government itself, the situation may have been different and there may have been a good case for a ceasefire?
Musharraf: Those are the decisions of the prime minister. What kind of pressure he can sustain and what is the political picture. He knows it better. I only talk of the military side and I told him there's no problem on the military side.
Karan: In other words, what you are saying is the prime minister couldn't sustain the political pressure?
Musharraf: Well you can take it as you think. Yes."
Musharraf also spoke about the circumstances behind his resignation in August 2008. He was first questioned about the decision to sack the Chief Justice (March 2007) which led to a cascading series of events culminating in his resignation. Whilst insisting that the decision to sack the Chief Justice was legal and constitutional and that he stood by it, he readily accepted that the handling of that decision was bad. Asked if he would today accept that it was a mistake to sack the Chief Justice, the General replied:
"No. What happened after that was bad. It led to a lot of turmoil in Pakistan. Certainly. But if you say it was a mistake – no. I took action which was absolutely constitutional and legal.
Karan: So you stand by the decision to dismiss the Chief Justice?
Musharraf: Absolutely.
Karan: Even if the decision itself was correct, could it have been handled differently?
Musharraf: Yes. The handling, I would say, was shabby. Certainly. Handling of the Chief Justice was shabby.
Karan: Do you blame yourself?
Musharraf: No. I don't blame myself because I don't get into the nitty gritty of which Deputy Superintendent of Police was rude to him, some cars were taken (away) or something of that sort. Now I am not passing such orders at all.
 Musharraf was also questioned about widespread reports that he had a secret agreement or understanding with the late Benazir Bhutto which facilitated her return to Pakistan in October, 2007.
Musharraf: "There was an understanding. I did talk to her, yes. I had been talking to her twice. She was not supposed to come back before the elections.
Karan: So there was talk (between you), there was an understanding but she broke that understanding to come back in October, 2007?
Musharraf: Yes, absolutely.
Karan: Would you say (that) if she hadn't broken that understanding but had fulfilled whatever terms of agreement you had with her she would have lived?
Musharraf: I think so. I think so. Absolutely. She would have lived.
Karan: If Benazir Bhutto had lived to become prime minister again would Gen. Pervez Musharraf still be president of Pakistan?
Musharraf: I think I would have been. Yes … if she did get elected and she did become prime minister I would have continued as the president. Because I was elected by the (then) Parliament. So that would have continued."
Asked if his resignation in August, 2008, was a voluntary decision or if he had been pushed aside, the General replied: "A combination. The environment had become such that remaining a rubber-stamp President with nothing to do literally was absolutely counter-productive and the political situation was evolving in a manner that my continuation was amiss, was purposeless".
Karan: So circumstances developed in such a way that you were gently eased out?
Musharraf: Yes but I took my own decision, yes, to leave.
Questioned if there was any deal or understanding between the civilian government and the Pakistani army to grant him indemnity against future prosecution for his actions in office, the General insisted that he didn't know of such an understanding.
Musharraf: "I didn't get involved in any such understanding at all.
Karan: When you say you didn't get involved, does that also mean there wasn't such an understanding or just that you were not involved?
Musharraf: Not to my knowledge. Not to my knowledge at all.
Karan: You mean there could be indemnity but you're not aware of it?
Musharraf: I absolutely am not aware of it and I don't know it."
However, the General made it clear that he was prepared to fight any legal cases brought against him. As he put it: "One has to face realities on (the) ground and I will face them. I am not a man who runs away from realities. Let them bring law suits and (try to) prove anything against me."
Karan: "In this situation, where the political parties aren't together and their rivalry is destabilising the country, what are the chances of another military takeover?
Musharraf: I wouldn't like to comment on that.
Karan: Are you ruling it out?
Musharraf: No comments. No comments.
Karan: That's a very interesting answer: No comments. I specifically asked if you are ruling it out and you don't want to say you are ruling it out!
Musharraf: (The) army has to ensure the integrity, territorial integrity and security, of Pakistan. So it's entirely the army's decision and the Chief's decision. But (so far) they go along with the government. I don't want to comment. These are sensitive issues.