BRIDES WANTED
GROOMS WANTED
OTHERS
HOW TO PLACE ADVTS
EDUCATION
JOBS & CAREERS
HEALTH & FITNESS
SCIENCE & TECHNOLOGY
REAL ESTATE
SPORTS
TRIBUNE CLASSIFIEDS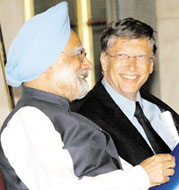 Microsoft chairman Bill Gates with Prime Minister Manmohan Singh at the Rashtrapati Bhawan in New Delhi. Gates received the Indira Gandhi Prize for Peace on Saturday. — Tribune photo by Mukesh Aggarwal

Nation page: Gates first business leader to get Indira prize)
Nothing to do with Baloch: Chidambaram
New Delhi, July 25
Aiming to stem the controversy over the inclusion of Balochistan in the India-Pakistan joint statement, Home Minister P Chidambaram has asserted that New Delhi has "nothing to do with Pakistan's internal affairs."
US aid to Pak comes with rider
Washington, July 25
The US Senate has approved the country's defence budget with an amendment aimed at ensuring that military assistance for Pakistan is actually being used only to fight the Taliban and Al-Qaida.

NDA 60 Glorious Years
1857 The First Challenge
E - Revolution 2005:
A Two-day IT conclave
Assembly Elections - 2005
Turbans
Chandigarh is 50
125 Years of The Tribune
India: The Tasks Ahead
India at Sixty
A Tribune Supplement
EARLIER FEATURES
On Sundays
On Saturdays
Nalin Surie is envoy to UK
New Delhi, July 25
The government has named Nalin Surie, Secretary (West) in the External Affairs Ministry, as the next Indian High Commissioner to the United Kingdom and S. Jaishankar, currently High Commissioner to Singapore, as the next Indian ambassador to China.
Youth's lynching: 4 in police net
Jind, July 25
The police today arrested four of the nearly 50-strong mob that allegedly lynched Ved Pal of Matour while he had gone to Singhwala village along with cops and a high court official to bring back his wife on Wednesday night.
Mush's claims on Kargil false: Malik
Drass (J&K), July 25
Accusing former Pakistan military ruler Pervez Musharraf of "telling lies", the retired Indian Army chief VP Malik today said the Pakistani General seemed to change his perceptions and actions on the Kargil war before different audiences.
A first: Women all set to guard borders
Kharkan (Hoshiarpur), July 25

History was created when the Border Security Force inducted the first batch of women constables, who will be deployed in a combat role on the international border.
The first women batch of the BSF in a jubilant mood. Tribune photo by Malkiat Singh

Another 100 MW for Punjab, Haryana
July 25, 2009

Kasab's trial to continue
July 24, 2009

Hang me: Kasab
July 23, 2009

US airline faces FIR for frisking Kalam
July 22, 2009

PM conveys concerns over protectionism
July 21, 2009
Consensus on 'fair' climate change pact
July 20, 2009

Hillary hails Pak intent to fight terror
July 19, 2009
No dilution in stand: PM
July 18, 2009
India delinks terror from composite dialogue
July 17, 2009
New Delhi, Islamabad move closer to dialogue
July 16, 2009
Colours of India in France
July 15, 2009