Pride and tears for Kargil heroes' kin on Vijay Diwas
Anil Bhatt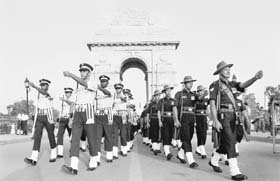 Armed forces personnel march past India Gate after a ceremony to commemorate 10 years of the Kargil war victory, in New Delhi on Sunday. — PTI
Drass, July 26
"I feel my son's absence," was all a proud mother of Param Vir Chakra awardee Captain Mohan Chandra Pandey could say in a choked voice as she was honoured for his supreme sacrifice in the Kargil war 10 years ago.
Amid the majestic flypasts, singing, dancing and the surge of patriotism associated with the euphoria of victory day celebration, it is not just Mohini Pandey, but families of hundreds of slain soldiers who helped defeat Pakistani forces that are still struggling to come to terms with their loss.
"I feel my son's absence. After a glimpse of his place of martyrdom, I feel proud," Mohini said as she was honoured at a function here along with emotional family members of award winning soldiers, who laid down their lives during the war, and also the surviving awardees.
"He has made me famous by his martyrdom. I am proud of my son. He is a national hero. I miss him," said G L Batra, Param Vir Chakra awardee Captain Vikram Batra's father.
As family members of hundreds of slain soldiers gathered here from all over the country at the invitation of the armed forces to attend the 10th anniversary of Kargil Vijay Diwas, many like S P Kalia are happy that the sacrfice of their loved ones is finally getting due recognition.
"After the demise of my son it is the only happy day of my life. I am thankful that my son is finally recognised and remembered," said Kalia, father of Lt Saurabh Kalia who was among the first casualties of the Kargil conflict.
The Congress has always downplayed the events to commemorate the end of Kargil war fought under erstwhile NDA government and it is for the first time that the Prime Minister of the UPA coalition has attended the function this year in the capital. There was hardly a dry eye, as family members of the Kargil heroes walked up to the dais to receive the mementos.
Kamla Devi, Munish Devi, Soman Yangsit, Kuldeep Kour, who lost their husbands in the war, however, felt the absence of the Defence Minister A K Antony and Army Chief Deepak Kapoor. "We wanted them here with us," they said.
"It is not only an emotional but a moment of pride for us. We are here to remember our brave soldiers who won us battle," Lt Gen P C Bhardwaj, GOC-In-C, Northern command, said.
Accompanied by former Army chief Gen V P Malik, Adjutant General of Army, Lt Gen Mukesh Sabherwal, Gen Bhardwaj as well as families of martyrs, serving officers and awardees laid wreaths at the Vijay Dashmi memorial here amid a majestic flypast by MiG Bison aircraft and Druva choppers and showering of flower petals by Chetak helicopters.
A big hot air baloon flew high in the backdrop of the memorial, located in the base of the Tololing ridgeline in Drass, once a battlezone where 610 officers and men, including five Air Force personnel and two civilians, laid down their lives.
Col Sonam Wancchuk, who was awarded the Maha Vir Charaka (MVC), was emotional as he narrated his experience. "It was most dangerous and difficult war. But we fought and won it for the country. It was a proud moment for us". Air Officer in Commanding (AOC), Jammu and Kashmir, Air Marshal J Chouhan said, "It was for the first time that the Indian Air Force was called upon to undertake live missions at such high altitudes. A bigger challenge was non violation of Line of Control".
Mirage-2000 aircraft carried out precision strike missions and dropped laser-guided bombs (LGBs) utilising the laser-designated pods (LDPs).
"These missions turned the balance of power in favour of India. Offensive posturing by the IAF deterred the Pakistani Air Force from intervening in this area. The IAF displayed professionalism of very high order and by July 12 almost all posts were recaptured," he said. — PTI