Children are more prone to getting sick during monsoon
Dr Vivek Sharma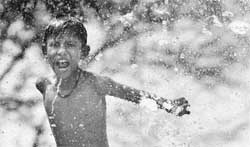 When the monsoon comes it brings with it not just cooler temperature but also a host of illnesses. In fact, each year, with the onset of the monsoon, there is a steady rise in the incidence of water contamination cases and infectious diseases. The level of illness among children always goes up during the monsoon and most of them have to get treatment for skin irritation, conjunctivitis (eye flu), diarrhoea and dysentry, typhoid, polio, jaundice, malaria or dengue fever.
Most common diseases to watch out for
Hepatitis A & E: These are caused by one of the strains of hepatitis virus and will affect your liver. The disease is spread through contaminated food and water. If Hepatitis (A & E) remains untreated it can lead to jaundice.
Typhoid: This is a bacterial illness that causes fever. There are quite a lot of symptoms that signal the onset of typhoid. Common ones are fever, headache, constipation, mild joint pains, sore throat and abdominal pain.
Diarrhoea and dysentry: This is a viral and bacterial infection that affects your child's intestines. It is caused by contaminated food and water. If your child has an infection he or she will have an attack of diarrhoea that leads to dehydration, vomiting, weakness and muscle cramps.
Jaundice: The yellow disease or jaundice is a water-borne problem. If you feel weakness, have constant headaches, no appetite and nausea, then check for jaundice. Another visible sign is yellowing of the eyes, nails and skin.
Malaria and dengue fever: Both are caused by mosquitoes. Malaria is caused by female anopheles mosquito and dengue by aedes (tiger mosquito). The rain water and puddles increase breeding in mosquitoes.
Eating tips to keep diseases at bay
l Avoid all food and water from outside.
l Stay away from stale food.
l As tempting as street food may be, give it a miss during the monsoon.
l Boil water at home.
l Always refrigerate left-over food immediately.
l Avoid eating raw foods
l If you are eating salads and green leafy vegetables, make sure that you wash them thoroughly.
l Any food that comes straight out of the refrigerator should be avoided completely. This is because the temperature falls during the rains and cold food will have a direct bad effect on the throat.
What should you do?
Your child should be fully vaccinated against communicable diseases.
Good hygiene and cleanliness in and nearby houses should be maintained.
Don't allow water to accumulate in your vicinity. Rain water and puddles promote mosquito breeding.
Make sure that you have a mosquito net around the child's bed.
Use mosquito repellent creams at night as an added precautionary measure.
Eating out should be at an absolute minimum during the monsoon.
Boil water at home. Filter the water first and then boil for 20 mts. The reason you need to filter and then boil water is because your filter may not be sterilised and boiled water may get contaminated. Avoid over-the-counter medicines and self-medication.
It is very important to get your child examined by a physician the moment you observe any of the symptoms mentioned in your child.
The writer is a Consultant-Paediatrician at Rungta Hospital, Jaipur