Tribune Impact
Probe into illegal sale of CFLs
Jagraon, July 31
After a report in these columns highlighted the scam, wherein CFLs meant for free distribution in Himachal Pardesh were being sold for Rs 95 in Punjab, Phoenix Lamps Ltd (PLL) of Hardwar has got into damage control mode.
Commercial sites fetch GLADA Rs 7.5 cr
Ludhiana, July 31
The GLADA sold 14 commercial sites in the Jamalpur area here yesterday for Rs 7.5 crore as against the reserve price of Rs 6 crore.
Husband, in-laws get 3-yr RI for abetting suicide
Ludhiana, July 31
A fast-track court has convicted Subash Chander (husband), Mohan Lal (father-in-law) and Sheela (mother-in-law), all residents of Kitchlu Nagar, of abetting suicide.


City Concerns
The arrival of delayed monsoon earlier this week threw normal life out of gear, particularly on city roads. Since a large part of the city is not covered by any stormwater drainage, the public faces hardships in draining out water from their shops and even houses at several places across the city.

Responses, in not more than 200 words, can be emailed to ludhianaconcerns@tribunemail.com or sent to our city office at Bhadaur House, Ludhiana.
Rs 15-cr flyover under scanner
Concrete slabs meant for underconstruction Gill Chowk flyover found cracked
Ludhiana, July 31
The Rs 15-crore Gill Chowk flyover, which is still being constructed, has once again come under scanner as the concrete slabs used in it have started "developing cracks".

| | |
| --- | --- |
| | The left portion of the flyover from where the concrete slabs were removed; and (right) cracked concrete slabs piled up near the flyover in Ludhiana. Tribune photos: Himanshu Mahajan. Tribune photos: Himanshu Mahajan |
Portion of road caves in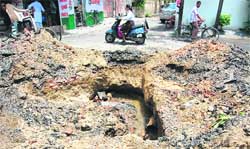 Ludhiana, July 31
A major mishap was averted today when a portion of road caved in near Kaka Marriage Palace here today. GL Arora, who owns a shop on the road, said: "Around 15 days ago, a manhole was laid in the area and during the recarpeting work it was covered by premix.


A road near Circuit House in Ludhiana that caved in on Friday. Tribune photo: Himanshu Mahajan
Vigilance team inspects roadwork
Machhiwara, July 31
A team of the Punjab Vigilance Bureau from Chandigarh today conducted a surprise inspection the 26 km-long road built under the Prime Minister Village Road Scheme starting from Neelon Bridge.
Stagnant water bugs residents
Ludhiana, July 31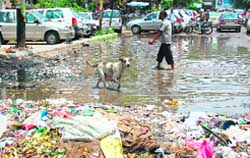 While it has been two days since the city witnessed heavy downpour, its aftermath is still visible with stagnant water enveloping roadsides. The condition in various areas like BRS Nagar, Feroze Gandhi Market, etc. is deplorable, especially with heaps of garbage along with stagnant water beginning to emanate foul smell, making these areas disease-prone.
Stagnant water mixes with garbage at Feroze Gandhi Market in Ludhiana. Tribune photo: Himanshu Mahajan
Signboards eat into sidewalks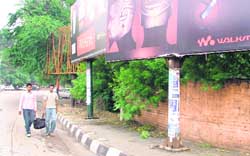 Ludhiana, July 31
With the municipal corporation allowing Greenline Advertising Agency to install signboards on footpaths along city roads, Ludhianvis have virtually been left with no space to walk.


Pedestrians have been forced to walk on the road with an advertising agency installing signboards on footpaths in Ludhiana. Photo: Inderjeet Verma
Land still a dream for Udham Singh trust
Ludhiana, July 31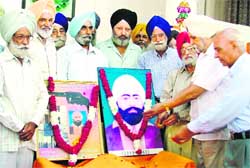 While the state government is selling prime pieces of public land to fill its coffers, it has failed to allot a small piece of land for martyr Udham Singh's memorial despite the Shaheed Udham Singh Nagar Trust demanding it for over a decade. The trust, which was established in 1996 to spread the message of martyr among the masses, wants to set up a befitting memorial in his memory.
Dr SS Johl, agricultural expert, pays tributes to Shaheed Udham Singh in Ludhiana on Friday. A Tribune photograph
Post offices shedding conventional image
Ludhiana, July 31
Over the years, the image of post office has undergone a sea change. "Dhak ghar", which was once solely used for the purpose of sending and receiving letters, telegrams and money orders, today provides dozen of other services to customers. New-look post offices have now started having ATMs and railway reservation counters on their premises and even provide banking services.
Markfed, agri dept to guide cotton growers
Ludhiana, July 31
For providing technical guidance to cotton growers in 435 villages in cotton belt, including districts of Bathinda, Faridkot, Mansa, Muktsar and Ferozepur, for improving production and quality of cotton, MarkfedPunjab, and department of agriculture, Punjab, will join hands under the overall coordination of Punjab Agricultural University.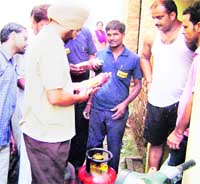 House catches fire after LPG leakage
Mandi Ahmedgarh, July 31
Residents of a local town and cops saved a thickly populated habitation from devastation after a fire broke out in a house due to the leakage of the gas from a cylinder this morning. At least one house was partially burnt in the incident which took place at around 6.30 pm when residents were getting ready for going to their work.


SHO inspects a fire extinguisher in Ahmedgarh on Friday. Photo: Mahesh Sharma
State all set to better government schools
Emphasis on above 60 pc scorers
Ludhiana, July 31
The state has set up three following goals for the next three years under the Sarva Shiksha Abhiyaan programme.
Computer science course from Sep 22
Sahnewal, July 31
A three-week refresher course in computer science, to be organised by Academic Staff College Guru Nanak Dev University, Amritsar, which was earlier scheduled to commence from August 7 has been rescheduled.
Dental college opens at Sarabha village
Mandi Ahmedgarh, July 31
Members of the Shaheed Kartar Singh Sarabha Charitable Trust vowed to play an active role in improving health of residents of the area and spreading quality education in the field of medicine and surgery. They called upon office-bearers of social and religious bodies to join hands with the organisation in service of ailing humanity.
ACs donated to college
Khanna, July 31
A librarian (retd) from AS College for Women donated five air conditioners for the college library here today.


318 bottles of liquor seized
Ludhiana, July 31
The excise officials seized Indian made foreign liquor when a vehicle carrying liquor smuggled from Chandigarh was intercepted near Chahlan village under Samrala police station last evening.
Two pistols seized
Jagraon, July 31
The Jagraon police has seized two country-made pistols hidden by Baba Balbir Singh at his room in the Gurudwara Panjuana Sahib, Lamme Jatpura.
Three held for fraud
Ludhiana, July 31
The police today arrested three persons for duping a man of Rs 2.7 lakh on the pretext of sending him abroad.


Nikhil stars in KVM win
Ludhiana, July 31
An all-round performance by Nikhil Chaudhary (27 runs and 3 for 9) steered Kundan Vidya Mandir School, Civil Lines, to a 21-run victory over Green Land Senior Secondary School, Jalandhar (bypass branch), in the u-14 years section in the ongoing PAU Zone Inter-School Zonal Cricket Tournament here today.
Badminton tourney begins
Ludhiana, July 31
The three-day Ludhiana District Badminton Tournament began at Prithipal Singh Complex on the PAU campus here today. Around 100 shuttlers are taking in the u-13, u-16 and u-19 groups.
Last-day rush at IT counters
Ludhiana, July 31
Heavy rush was witnessed at all return receipt counters of the income tax department on the last day of filing of IT returns here today.