THIS ABOVE ALL
Mind your words, please
KHUSHWANT SINGH


KHUSHWANT SINGH

I was appalled to read of the language used by Rita Bahuguna Joshi, head of the UP Congress Committee, for Chief Minister Mayawati. The fact that Mayawati is prone to use similar language—calling Mahatma Gandhi natakbaz—was no excuse. Joshi should have herself realised that she had crossed the limits of decency, and tendered an apology. That would have been the Gandhian thing to do. Instead, she chose to say that she had not meant to say what she said, and had been misunderstood.
I hoped Digvijay Singh would pull her up and apologise on her behalf. On the contrary, he supported her and tried to divert the focus from her speech to the attack on her house by Mayawati's supporters. I hope Sonia Gandhi will set the record straight: either sack Joshi, or at least reprimand her. That will restore the image of the Congress as one which maintains certain standards of rectitude.
Why are so many of our political leaders so loose tongued? Does it not occur to them that by using bad language they only lower themselves in people's eyes and in the estimation of the party they belong to?
Virani saga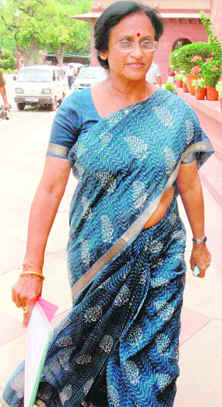 In the line of fire

: Sonia Gandhi should either sack Rita Bahuguna Joshi, or at least reprimand her for insulting Mayawati.

Pinki Virani is a Muslim. Her husband Shankar Aiyar, a senior executive with India Today, is a Tamil Brahmin. When I met her first time, I asked her how the marriage was working out as both had stuck to their respective faiths. "Fine. Just fine", she replied. "I recite my namaz in one room. He tinkles bells to his deities in the other. No problems, whatsoever". I was happy to hear it. The more Hindu-Muslim marriages, the better.
I find conversions demeaning. Pinki started off as a steno-typist, rose to be an editor and finally an author. Her first book, Aruna's Story, is a true account of a lady doctor, who was raped and left for dead by an employee she had sacked for neglecting his duties. Aruna has been in coma for 31 years, a living corpse. Pinki's account of Aruna's trauma and suffering is a true heart-rending tale, a classic of its genre.
Deaf Heaven (Harper Collins) is her fourth book and first work of fiction. It is ingenious in many ways. Its timeframe is limited to a long weekend when a lady librarian dies unattended in her library till her body is found the following Monday. It is ingenious in its variety of characters—a girl with a cleft lip, two starlets who make it to the top by serving financers, producers and directors on the casting couch. There are male film stars reminiscent of the Bachchans and the Kapoor family. There is a lady beautician who reminds one of Shahnaz Hussain; a family which, having made its fortune in Mumbai, moves to Delhi and tries a shortcut to nobility by becoming polo players and sponsors of polo teams. Above all, Deaf Heaven is ingenious in language—a khichdi of English and languages used by the urban middle class of Chennai, Kolkata, Delhi and Mumbai. The novel makes joyful reading and keeps you smiling from page one to the last.
Lying honour
Bill and Sam, two elderly friends, met in the park every day to feed pigeons, watch squirrels and discuss world problems. One day Bill didn't show up. Sam didn't think much about it and figured maybe he had a cold or something. But after Bill hadn't shown up for a week or so, Sam really got worried. However, since the only time they ever got together was at the park, Sam didn't know where Bill lived. So he was unable to find out what had happened to him.
A month had passed, and Sam figured he had seen the last of Bill. But one day, Sam approached the park and, lo and behold. There sat Bill. Sam was very excited and happy to see him and told him so. Then he asked: "Bill, what in the world happened to you?" Bill replied: "I have been in jail." "Jail?" cried Sam. "What in the world for?" "Well," Bill said, "you know Mary, that cute little blonde waitress at the coffee shop where I sometimes go?" "Yeah," said Sam, "I remember her. What about her?" "Well, one day she filed rape charges against me; and, at 89, I was so proud that when I got into court, I pleaded guilty. The damn judge gave me 30 days for perjury."
— (Contributed by Vipin Buckshey, New Delhi)