Punjabi antenna
Role model par excellence
Randeep Wadehra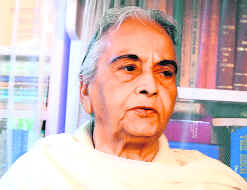 Doordarshan, Jalandhar, recently telecast Dheeyan Punjab Diyan featuring a living legend, Inderjeet Kaur Sandhu

There is something very special about trailblazers. Without realising it, they set inordinately high standards for themselves and go about achieving their goals with single-mindedness that, to ordinary mortals, appears to be not human. On July 14 Doordarshan, Jalandhar, telecast a programme—Dheeyan Punjab Diyan—featuring one such living legend.
Inderjeet Kaur Sandhu was born in luxury. She was brought up in a feudal milieu during pre-Independence India. Going by the social norms prevailing in those days, she could have easily slipped into the role of a housewife after going through some pre-determined motions of getting education and acquiring relevant skills in housekeeping and child rearing, coupled with requisite social graces and etiquette. But she was determined to walk off the beaten path.
Fortunately, her parents were enlightened and backed her desire for a more fulfilling lifestyle. After doing MA in philosophy from Government College, Lahore, she took up teaching as her profession. By sheer dint of ability she reached her career's acme as Punjabi University's Vice-Chancellor—the first woman in North India and only the third in the world to become VC.
Another first to her impressive career has been the chairmanship of the Staff Selection Commission, New Delhi—a post not held by any other woman so far. Presently confined to a wheelchair, Inderjeet reminisced about her various stints as teacher, administrator and Principal in different institutions. Among her illustrious students is Gursharan Kaur, the wife of PM Manmohan Singh.
Right from the days of her youth, she has been associated with charitable work, too. As founder-secretary of the Mata Sahib Kaur Dal, she had helped in the rehabilitation of about 400 refugee families in Patiala in the aftermath of the Partition. Moreover, her organisation was instrumental in rescuing women and restoring them to their respective families on both sides of the divide.
She also facilitated free education for girls from poor families. Indeed, DDJ has done a signal service by highlighting the persona of a role model par excellence.
Another interesting programme on DDJ was Khoj Khabar. It highlighted the Doaba region as the focal point of medical tourism in Punjab. Here, at a fraction of the cost obtaining in the West, one can avail of elective surgery like dental transplants, plastic surgery and various other corrective medical processes in clinics and hospitals boasting of world class medical facilities.
Assisted Reproductive Techniques (ART), like in vitro fertilisation, too, are available to childless couples. Indeed, the show—interspersed with interviews with medical practitioners and patients/consumers (most of the latter being NRIs) —was both informative and interesting. However, one must realise that as far as medical procedures are concerned, it is always advisable to inform viewers of the downside, too. The information on side-effects of such surgeries, the possible risks involved and one's rights as consumer would have made this show all the more valuable. In its present form the show looked more like a promotional exercise than a journalistic analysis.
One has been watching Zee Punjabi's Sohani Saver for quite some time now. People from different walks of life, especially showbiz, are interviewed by Balwinder and Jassi. The two anchors have been complementing each other in making the interviews interesting by posing intelligent and searching questions.
On July 19 Mehar Mittal appeared on the show and talked of how he has turned spiritual. However, when some of his memorable roles were mentioned, one got the glimpses of the familiar Mittal—humorous without being bawdy, naughty without being vulgar and, yes, absolutely funny in a decorous way. Right now, Sohani Saver is easily the most watchable morning show on the Punjabi telly.