COLUMNS

THIS ABOVE ALL
TELEPROMPT
GOOD MOTORING
AUDIO SCAN
WEBSIDE HUMOUR

FOR CHILDREN

CROSSWORD
ROOTS
RHYME TIME

Earlier Feature
TELEVISTA
Dogri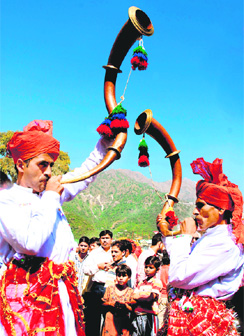 An alien in its own land
Dogri, the language of warriors, is struggling to find acceptance in its own land. Ravi Krishnan Khajuria on the evolution and plight of the language
Dogri language is surrounded by ironies. Popularly called the khand-meethi boli (language as sweet as sugar), this Indo-Aryan language is the language of warriors — Duggars. An ancient language, Dogri first found mention in the works of Amir Khusro as far back as 1317, but in the place of its origin it is yet to find popularity. Efforts have been made by the state's leaders towards its social acceptance, the recent one by Congress MP Madan Lal Sharma, when he took oath in Dogri in the 15th Lok Sabha.
Dogra artistes perform during a Navaratra festival in Katra. — Photo by Anand Sharma

Culture of poets and warriors
Ashutosh Sharma
Culture is the name of continuity. The Dogra culture, due to its accommodating nature, has maintained this healthy trend. But it should not lose sight of its fundamentals to retain its charm and identity. Sadly, today this culture of warriors and poets is in a deplorable condition as are its historical monuments, traditional arts and the Dogri language itself. The younger generation is fast catching up with Hindi and English, while literary contribution have shrunk to functions only.