Football's forgotten hero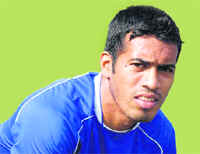 Mahesh Gawli's name has been missing from the Arjuna Award list. This soccer star's claim to the award can't be overlooked, writes K. Datta
The joy in the Mary Kom household in Imphal came through loud and clear as this writer called her on her cell to congratulate the four-time world-boxing champion on her nomination, at last, for the Rajiv Khel Ratna Award. "Main aaj khush hoon," she said, raising her voice over the bedlam created by her bawling twin sons who will be two years next month.
Wait on for new swimsuit rule
Swimmers competing in Rome at the swimming world championships have said they are looking forward to a ruling by the sport's controlling body that will prohibit bodysuits and greatly restrict the type of textiles that can be used. Swimmers feel that the new performance-enhancing high-technology suits being used by most competitors played a big part in the flood of world records that were being broken at the world championships.
Donald bats for ball tampering
Former South African fast bowler Allan Donald said the International Cricket Council (ICC) should legalise ball tampering to protect the "dying breed' of fast bowlers. Donald said bowlers must be allowed to "prepare" the ball — ball tampering, in other words — to redress the balance between bat and ball to protect the fast bowlers from increasingly lifeless pitches.