M A I N N E W S
No bailout for pvt airlines: Patel
Warns carriers against suspending flights
Vibha Sharma
Tribune News Service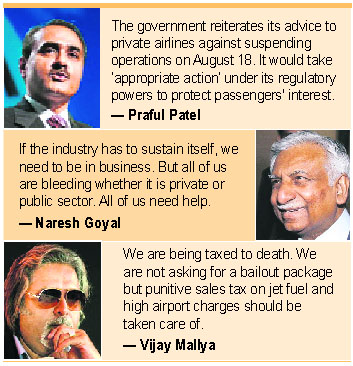 New Delhi, August 1
An uncompromising Civil Aviation Minister Praful Patel today denied the possibility of any bailout for loss-making private airlines of the country and warned them against suspending domestic flights on August 18.
Also, the Director General of Civil Aviation (DGCA) told the airlines to comply with civil aviation rules regarding flight cancellation. "…That in case of cancellation of flights, airlines are required to refund to the passengers the full amount paid by them (a) within seven days of cancellation if the ticket was purchased through credit card and (b) immediately if the ticket was purchased through cash. You are hereby directed to confirm compliance with the above CARs within 48 hours. Any non-compliance with the above provisions may attract legal action as provided in the Aircraft Act/Rules and relevant regulations," the DGCA told the protesting airlines.
Ruling out any possibility of the government's help in bailing them out of financial red, Patel asked the airlines to withdraw their call for suspending flights. "The government reiterates its advice to private airlines against suspending operations on August 18," he said, warning the airlines that the DGCA could take appropriate action under its regulatory powers to protect passengers' interest.
Maintaining that state taxes on ATF was an issue much before several present carriers came into existence, he said the government could not be expected to extend financial help to loss-making private carriers. Air India would stand up to its national responsibility and mount additional flights to minimise inconvenience to the public, he added.
Though private airlines have said they would refund the tickets booked for August 18, it was unlikely that passengers, especially those flying in low-cost carriers, would find an easy alternative that day.
Notably, the airlines had yesterday announced that they would ground all flights and services on August 18 to protest government's inaction in bailing them out of recessionary impact.
The move by the Federation of Indian Airlines (FIA), which includes airline majors Kingfisher and Jet Airways, has been interpreted as a pressure tactic and blackmail. Aviation experts feel the demand was timed to coincide with discussions that were likely to result in the government bailing out beleaguered national carrier Air India.
Last week, the government had asked the Finance and Petroleum ministries to help Air India. It also appointed SBI Caps as advisor to draw a revival plan for the national carrier, which suffered losses of Rs 7,200 crore last year.
Private airlines, however, say the decision to not fly on August 18 was not a blackmail tactic but way of drawing the attention of the government to the sector, which was "bleeding from all sides due to mounting bills from high ATF and airport charges". They say they were looking for help from the government in the form of rationalisation of airport charges and jet fuel taxes and unless the government helps their survival will be in doubt.
IndiGo not to take part in strike
New Delhi: Cracks started appearing today in a grouping of airlines that was planning to suspend flights on August 18 to protest high jet fuel prices and taxes, with budget carrier IndiGo saying it would operate as usual. IndiGo's decision to ignore the call of the Federation of Indian Airlines came hours after the government warned of "appropriate action" against those who disrupt the schedule.
"IndiGo appreciates the sentiments expressed by the ministry that it understands the problems faced by the Indian aviation industry and that we should all engage in a dialogue with the ministry," IndiGo Airlines president Aditya Ghosh said. — PTI