A language called music
Nomadic communities all over the world are distinct from each other. The only thing
that binds them together is music, writes Ashwaq Masoodi

THEY are gypsies from different countries, states and cultures, yet there is a universal language that binds them...a language of music. With the aim of promoting nomadic values and culture, NOW - 'Nomadic Orchestra of World', conceived and directed by Meenakshi and Vinay Rai is all set to reverberate in Europe now.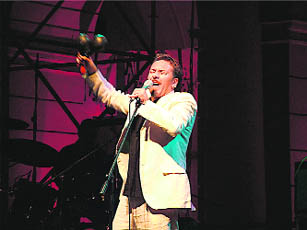 Roman singer/composer Andrea Camerini has trained Nomadic Orchestra of World artistes from Haryana, Rajasthan and Uttar Pradesh

NOW, an orchestra binding nomadic musicians from different cultures through jugalbandi concerts seeks to build a common voice for nomads.
"All these communities are distinct from each other but music binds them. They can be linked to each other through a forgotten tone," says National award winning filmmaker and culture activist couple, Meenakshi and Vinay Rai.
After performing at Gypsy Diaspora in Pondicherry, Bhopal and the national capital's Dilli Haat, the orchestra is now scheduled to fill the air of Germany, Austria and Switzerland with music.
Meenakshi says, "History is witness to the fact that all nomadic communities in the world have migrated from India. Now, these communities have acquired different habits, different cultures but something that is still common among them is music."
While researching nomadic communities for eight years, the couple realised that if they really wanted to help the community, they had to involve them in the process.
"What these people need is a global repositioning of their art. We realised that their rich qualities were getting lost in the global race and in search for livelihood. So we came up with NOW as a livelihood model for these people," says the duo.
Pointing towards the inaccessibility of the other jobs for the community, they said, "We thought that it would be better to hone the skills they already have, rather than looking for other means. Nomads are very good at music and singing."
NOW artistes from Haryana, Rajasthan and Uttar Pradesh are trained by Roman singer/composer, Andrea Camerini to create flexibilities for concerts within nomadic communities all over the world. The orchestra plays songs, which narrate their story, their history and their problems.
"It took us 10 years to cover seven nomadic communities out of 250. These people are hesitant and take time to establish dialogue. We aim to cover more nomadic communities and spread to 15 countries till 2015," says the couple. — PTI