NATURE
Check out this lizard
A new lizard species has been discovered in the Western Ghats, near Kolhapur in Maharashtra, and been appropriately named — Cnemaspis Kolhapurensis. It was discovered by scientists of the Bombay Natural History Society (BNHS) with help from experts of the Villanova University, USA, an official said.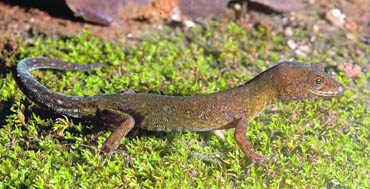 The newly discovered lizard species in the Western
Ghats, near Kolhapur in Maharashtra. Its tail has
an iridescent blue sheen Photo: IANS

The lizard was spotted by BNHS curator Varad B. Giri. The discovery comes close on the heels of finding two other species of lizards in the state.
The new lizard belongs to the genus Cnemaspis and is mostly small in size and have a circular pupil, Giri said. They also display many interesting characteristics. When viewed in oblique light, the tail dorsum exhibits an iridescent sheen, he said.
"They are usually found in the forests, although a few have been noticed in human habitations as well. In India, the geckos of this genus are mostly founds in the Western Ghats (Sahyadri range of mountains) and a few in the Eastern Ghats," Giri explained.
Giri was assisted in the identification and research by a BNHS research fellow, Kshamata Gaikwad.
At 24, she is one of the youngest scientists working in the field of caecilians (amphibians) and lizards and is the first Indian woman scientist to have helped discover the new lizard species. Work on the Cnemaspis Kolhapurensis began in 2005 and the discovery has been published in the July edition of the prestigious journal, Zootaxa, Giri said. The research findings by Giri and Kshamata were submitted to Dr Aaron M. Bauer of Villanova University for verification.
Prior to this, two other species — Hemidactylus Sataraensis and Hemidactylus Aaronbaueri — were also discovered by Giri and Bauer as part of a BNHS project in the thick forests of Maharashtra. The three discoveries point to a unique diversity of amphibians and reptiles in the Sahyadri range forests. The discovery of a caecilian, Indotyphlus Maharashtraensis, confirms this, a BNHS statement said.
The BNHS has urged the need for serious attention to explore and study the region thoroughly, and apprehends that if not done immediately, the country could lose many species, much before they are even known to science.
The latest project received funding support from Rufford Small Grants for nature conservation and the Ministry of Environment and Forests, and field support from the local Forest Department and non-government organisations like Greenguards of Kolhapur and Malabar Nature Conservation Club. — IANS