Rodrigues for more mini AC buses
Chandigarh, August 3
With a view to promoting public transport and reducing traffic congestion on city roads, UT Administrator Gen SF Rodrigues today asked senior officers to step up the implementation of the JNNURM project by procuring more mini AC buses at the earliest and make the journey of commuters more convenient and comfortable.
Smoking
18 challaned at taverns for violations
Chandigarh, August 3
Continuing with its drive against violations under the Control of Tobacco Products Act (COTPA), the UT administration today conducted raids on various taverns in the city to check the reported incidents of smoking on these premises.
Theft bid at house of DC's in-laws
Panchkula, August 3
Thieves attempted to burgle the house of the in-laws of Panchkula Deputy Commissioner Pankaj Yadav here last night. The thieves broke into the house of Rohtas Yadav, the father-in-law of the Deputy Commissioner, in Sector 26. However, they returned empty handed, as they could not break the doors inside the house.
Smoking
No action against GMADA
Mohali, August 3
Even though the Adviser (technical) to the Punjab Chief Minister Lt Gen BS Dhaliwal recommended action against technical team of the Greater Mohali Area Development Authority (GMADA) about three months ago for poor quality work on two major road projects worth crores of rupees, no action has been taken by the authorities concerned in this regard so far.
30 shortlisted for Entrepreneur Development Centre
Chandigarh, August 3
Entries of 30 budding entrepreneurs were shortlisted at a meeting held recently of the evaluation committee of the Chandigarh IT - TiE Business Plan Competition - EnterPrize.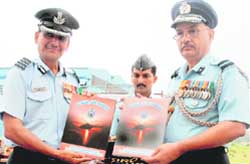 BRD chief promoted
Chandigarh, August 3
Air Officer Commanding No. 3 Base Repair Depot, Air Cmde SC Luthra, handed over the reins of the Depot to Gp Capt KK Gupta at a ceremonial parade here today.


Outgoing Air Officer Commanding No. 3 Base Repair Depot, Air Cmde SC Luthra (right) releases a coffee table book in Chandigarh on Monday. A Tribune photograph
Green belt inaugurated in Sec 47
Chandigarh, August 3
Dr Roshan Sunkaria, MC Commissioner, inaugurated a green belt developed in an area of around one acre in Sector 47 D here today.
Four injured in accident
Panchkula, August 3
Four family members, including two children, were injured seriously when a speeding Swift hit them on the road seperating Sectors 11 and 4 here tonight.


Tribune Impact
Misuse of School Funds
Controversial principal repatriated
Chandigarh, August 3
In a bid to crack a whip on the principals misusing school funds, the UT administration today repatriated controversial Anil Sharma, current principal of GMSSS, Sector 23, to his parent state, Haryana, and is all set to file a chargesheet against him for the alleged embezzlement of school funds worth lakhs of rupees.
Scholarship for minorities
UT admn invites applications
Chandigarh, August 3
The city administration has invited applications from the students belonging to the minority communities notified by the Central government, pursuing education, from Classes I to X, in government, recognised private school, institute for pre-matric scholarship to be awarded by the ministry of minority affairs, Government of India.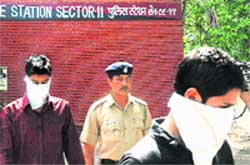 Ragging at PU
Accused get 14-day judicial custody
Chandigarh, August 3
A local court today remanded two Panjab University students to judicial custody for ragging a first year student.

PU students being taken by the police after a court remanded them in judicial custody for ragging in Chandigarh on Monday. Tribune photo: Manoj Mahajan
Education Board
Dr Bajwa allowed to continue as vice-chairman
Chandigarh, August 3
Dr Ranjeet Singh Bajwa remains the vice-chairman of the Punjab School Education Board.
CityScope Letters-II
Understanding childs' psychology must for teachers
This refers to the City Scope "No room for the rod" (July 27) by Raveen Thukral. A schoolteacher of St John High School had slapped and humiliated a student of Class III was shocking. After the incident, an inquiry was conducted by a city SDM. The authorities of the private school have sacked the teacher, who was found guilty.