PUNJAB
HARYANA
JAMMU & KASHMIR
HIMACHAL
REGIONAL BRIEFS
NATION
OPINIONS
LETTERS
BUSINESS
SPORTS
WORLD
BRIDES WANTED
GROOMS WANTED
OTHERS
HOW TO PLACE ADVTS
Tuesday, August 4, 2009, Chandigarh, India
Updated at 3:00 am (IST)

First swine flu death in country
14-year-old girl from Pune dies
New Delhi, August 3
India today recorded its first swine flu death, with a 14-year-old girl from Pune becoming the first casualty of the deadly Influenza A H1N1 virus, of which the country is witnessing the second wave. The death happened a day after three more persons, including two students, tested positive for the virus, taking the number of infected in the city to 101. Several schools were shut down in Pune, with countrywide infections soaring to 567 today.


Walia appointed Punjabi Tribune Editor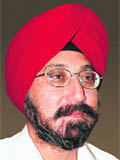 The Tribune Trust has appointed a prominent Punjab journalist, Mr Varinder Walia, as Editor of Punjabi Tribune. He has been in the profession for the last 18 years. Mr Walia, at present, is a Special Correspondent at Amritsar in The Tribune and has handled this prestigious assignment very creditably.
HK Dua
Editor-in-Chief
CAST YOUR VOTE
Is better coordination among states affected by Naxalism needed to tackle the menace?

EDUCATION
JOBS & CAREERS
HEALTH & FITNESS
SCIENCE & TECHNOLOGY
REAL ESTATE
SPORTS
TRIBUNE CLASSIFIEDS
Haryana CM holds out poll sops
Farmers to retain land even if they fail to repay loans
Chandigarh, August 3
It was a day for farmers in the Haryana Assembly today, the last day of the two-day monsoon session and perhaps also the last day of the present Assembly before the state elects a new Assembly.
A Tribune Exclusive
Telecom scam may have cost govt
Rs 20,000 cr
New Delhi, August 3
It can only be described as the "great telecom rip-off" which may have cost the tax-payer a minimum of Rs 20,000 crores according to a top official of the Telecom Regulatory Authority conversant with the scam.
80 per cent polling in byelections
Chandigarh, August 3
Neither oppressive heat and humidity in Jalalabad nor sharp showers in Kahnuwan apparently deterred voters from exercising their franchise in the byelection on Monday in the two Assembly constituencies or in the third constituency of Banur.
NDA 60 Glorious Years
1857 The First Challenge
E - Revolution 2005:
A Two-day IT conclave
Assembly Elections - 2005
Turbans
Chandigarh is 50
125 Years of The Tribune
India: The Tasks Ahead
India at Sixty
A Tribune Supplement
EARLIER FEATURES
On Sundays
On Saturdays
Magsaysay Award for Deep Joshi
Kuala Lumpur/New Delhi, August 3
Prominent Indian social activist Deep Joshi, who has done pioneering work for "development of rural communities", was today named along with five others for the prestigious Ramon Magsaysay Award for 2009, considered as Asia's equivalent of the Nobel Prize.
Pak SC adjourns case against JuD chief indefinitely
In an apparent fallout of Pakistan's Supreme Court's judgment striking down the imposition of emergency and the provisional constitution order (PCO) on November 3, 2007 by erstwhile military ruler Gen Pervez Musharraf as illegal, the hearing of petitions by the Punjab and federal governments against the release of Hafiz Muhammad Saeed, chief of the outlawed Jama'at-ud Da'wah (JuD), was deferred indefinitely.


They're testing our patience: Krishna


Drugs, cell phones, liquor — jail inmates have access to all
Chandigarh, August 3
It was never a secret that inmates in Punjab jails have access to liquor, mobile phones and drugs. But now a report by Bathinda SSP, placed before the Punjab & Haryana High Court today, has confirmed what was suspected all along.
Pvt airlines call off strike
August 3, 2009
No bailout for pvt airlines: Patel
August 2, 2009

Son's arrest plot to malign me: Buta
August 1, 2009

Governor gives clean chit to Omar, tells him to continue
July 31, 2009

No softening on terror: PM
July 30, 2009

Omar resigns as J&K CM
July 29, 2009
FM gives housing a booster dose
July 28, 2009
N-power for Navy
July 27, 2009
No discord between govt, party: PM
July 26, 2009
Another 100 MW for Punjab, Haryana
July 25, 2009