Classroom without walls
Unable to get into college? Don't worry. You still can get good college education from one of the many distance education providers, writes USHA ALBUQUERQUE. Just ensure the course is duly recognised
AMBIKA has a talent for design and is not keen on doing BA or BCom. Anshu has low marks and would not be able to get into a good college. BCom graduate Sangeeta is married, and unable to take up a full-time course.
Careercature
Sandeep Joshi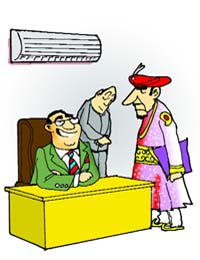 I am really impressed with your new formal dress, but haven't you gone too far?

COURSE CHAT
Take on the world!
Education through distance mode is in no way inferior. Armed with an appropriate degree, you can apply for any job, even a govt one
Usha Albuquerque
DISTANCE education programmes are as good as any other. The validity of the degree acquired through correspondence is the same as that of a regular degree as long as the basic eligibility requirements are satisfied. Degrees through correspondence from a recognised university are also eligible for any government job.
OFFICE MANTRA
Some things never change
In your quest to be tech-savvy don't ignore time-tested job search etiquette. Read on for tech etiquette tips
IF there's any small solace when starting a job search in this recession, it's the proliferation of digital technology to help you re-enter the working world. Websites have multiplied the number of job openings you can track and the professional contacts you can make.
Dress well to reach the top
Experts say scores of employees sabotage their career simply by making the wrong wardrobe choices
WANT to climb the corporate ladder? Well, then forget polishing educational skills and long hours of hard work, for a good dress and killer heels are more than enough to do the trick. That's the conclusion of a leading fashion expert, who says that workplace dress codes and office etiquette has been on the decline in recent years.
Making the best of tough times
Workers use recession time to seek fun employment, amend work-life balance
CREDIT crunch-hit Brit workers are increasingly quitting the rat race, and going for what they call "fun-employment". Many workers are choosing to leave stresses and strains of work behind, while others are in search of a better work-life balance.
FOOD FOR THOUGHT
Layoffs least likely cost cutting tool in India
RETRENCHMENT of employees is the least likely cost-cutting tool for Indian companies compared to their global peers and they would be the first across the world to recommence regular salary revisions, a new survey said.
Job openings in NCR up 17 pc
THE number of job openings in NCR has increased by 17 per cent in the first four months of the current fiscal showing signs of improvement in the economy, Assocham has said. About 49,750 openings were offered by companies in April-July 2009-10 in the National Capital Region as compared to 42,501 between December-March 2008-09, the industry body said.
Career Hotline
Pervin Malhotra

For pharma sector, regular MBA will do

For some careers, MBA is a waste

Pursue chemistry, it offers great growth

There's nothing stopping you!