M A I N N E W S
A Tribune Special

Prisoners in their own house

Ravinder Saini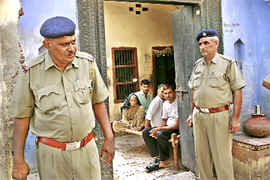 Members of Gehlout family in their house at Dharana village in Jhajjar on Wednesday. Photo: Manoj Dhaka

Dharana (Jhajjar), August 5
Even the presence of one hundred policemen in this village today did not appear to inspire much confidence in the solitary family they were there to protect.
Children and the cattle have been sent away by the family after the 'Kadian Khap' ordered the family to leave the village or face a social boycott. All because Rohtas Singh Gehlaut's son, Ravinder, chose to marry a girl belonging to the Kadian 'gotra'. The young couple, who lived and met in Delhi where they fell in love, are of course forbidden to visit the village.
Rohtas Singh and his two brothers continue to live in the village, along with their aged father and a few women of the household, in the hope that sanity would prevail and a settlement would be reached soon.
With followers of the 'Kadian Khap' staging an indefinite dharna outside the village, the Gehlaut family is forced to remain confined within their house. For close to a month now they have lived like prisoners in their own house, unable to move within the village, unable to go out and unable to visit their fields. A handful of relatives have occasionally visited them with provisions, they said, but the stocks are fast running out.
The family has also lost the sorghum ( jawar) crop they used to grow in four acres of their land. Because of the uproar over the marriage and subsequent disruption, the paddy plantation too has suffered.
Naseeb Singh, one of the uncles of the groom, told The Tribune today, " we have been under considerable stress , our daily schedules are disrupted and we cannot even venture out to Beri town to buy provisions."
The children have not been going to school for the last one month and for security considerations they were shifted by the family to another village. " We were in no position to take care of the children or the cattle either," he adds softly.
"Police can perhaps protect our lives but cannot provide us livelihood," points out Rohtas Singh. Unless the government, therefore, comes to their aid and extends financial support to the family, they would be left with no option but to leave the village and look for a living elsewhere.
At the moment, the family appears determined to stick it out and deny any plan to sell the land. But if they are forced out of the village, they may have to look for a buyer, quite possibly someone belonging to the 'Kadian Khap', the tormentors.
Rohtas Singh's father has taken ill. And his panic-stricken mother Chander Devi ( 80) kept wailing, " What crime have we committed to deserve this punishment".
The family is pinning its hopes on the state government, which, it says, must intervene and resolve the controversy. But the state government appears in no mood to oblige.