Fort right
One of the persons behind Punjab's first heritage hotel, Aman Nath talks of restoration, ruins and more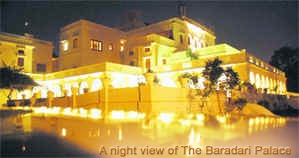 The co-chairman of Neemrana Hotels Aman Nath and his partner Francis Wacziarg are the men who gave the Baradari Palace the facelift it needed to become a heritage hotel. Aman's affair with old forts started when Francise and he, during a tour to the Shekhawati region in Rajasthan, stumbled upon a ruined fort. They took it upon themselves to give it a new look and it took them almost 15 years to achieve the task. It was only the beginning.


Art & soul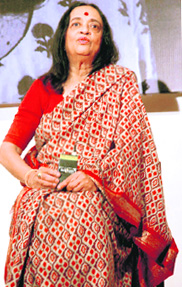 Artist Anjolie Ela Menon shares a slice of her creative journey with art students and connoisseurs during a lecture-cum-slide show, organised by the Chandigarh Lalit Kala Akademi at the Government Museum and Art Gallery on Wednesday. Lifestyle photo: Parvesh Chauhan


Hail heritage
Connoisseurs cannot stop raving about Patiala peg, and singers do not get tired of singing about parandi-wearing sohni kudis, palaces reflecting the aristocracy of this erstwhile princely state once represented and folklore is still full of stories of the eccentricity of Maharaja Bhupinder Singh and his 365 wives. Well, that's the charm Patiala, a city which has walked towards modernity with its traditional charm intact. So, when a group like Neemrana Hotels thought of opening up Punjab's first heritage hotel, Patiala became its obvious choice and the fact that 1876-built Baradari Kothi with the picturesque view of Baradari Garden was up for the grabs, it made things easier. Thus was born The Baradari Palace, where one can be treated like a king or a queen, re-live the past without getting away from the present.

Leading stars have threatened action for rumours about their relationships
There are stories and rumours galore about film stars, but celebrities are no longer willing to tolerate gossip that will affect their relationships. Many like Aishwarya Rai, Saif Ali Khan and Akshay Kumar have threatened legal action to stop gossip-mongers from spreading false news about their personal lives. Music lovers remember Kishore Kumar on 80th birthday
His fans and music lovers went back in time as radio stations and TV channels played old melodies of Kishore Kumar, the versatile Indian singer-actor-director-composer who would have been 80 on Tuesday. Often called a genius, he held sway over Bollywood playback music for two decades and is remembered to this day for his ability "to create drama through singing". No one has been able to take his place till date, say many in the industry. Sunny Deol sends legal notice to FM channel over mimicry show
Terribly hurt" by the programme Sonsunny mimicking the Deol family, Bollywood actor Sunny Deol has sent a legal notice to Big FM radio channel asking them to withdraw the show or face defamation suit for a compensation of Rs 200 crore damages.

Actor Sunny Deol addresses a press conference about filing of a defamation suit of Rs 200 crores against a private FM Radio station in Mumbai. PTI Photo


Sawant makes heads turn in Pakistan too
Rakhi has her day
Bollywood item girl-turned-reality TV star Rakhi Sawant's swayamvar is also making news in Pakistan with reams being written in the English and Urdu media about her impending marriage. Sawant chose Indo-Canadian businessman Elesh Parujanwala as her bridegroom on NDTV Imagine's reality show Rakhi Ka Swayamvar late on Sunday evening.
Redefining couple chemistry, these tricity spouses believe: A couple that works together stays together
If you work in the same office, chances are that you'll end up treating each other as colleague and not spouse. Your bedroom will turn into conference room; your only discussions will be on what went wrong with that project or why things worked for one and not the other. Having your spouse as colleague may be difficult, but there are some who are glad to find each other playing two different roles successfully— in office and at home. For them working together is fun, and comes with incentives and not cut-offs.

Two to tango: Atul Gupta with his wife Anuja Lath

Patience is the key word
I am 24 years old and share room in a hostel accommodation with another girl. We both work in a software company together and belong to a small town in Punjab. We've always shared most of our things. Now I have started dating a young guy and my girlfriend has started showing signs of extreme jealously. She suddenly seems to get angry over small things and acts very jealous and possessive. Every time I have to go out with my boyfriend, it's a difficult situation to deal with. I like her, but I don't want to loose my boyfriend either. How do I deal with this situation.

The hunt is on!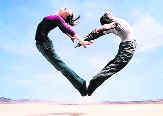 So, you are single, experimenting or married (because there is a category for them in the dating rulebook), available and ready to maximise the benefits of your status. With sharp prowess and heightened senses to spot or smell another single or prospect one-night stand, hunting becomes the favourite game. The possible habitat to find easy and interesting prey is a club, bar or lounge. And once you set eyes on your target hunt, that naughty little sound from inside yelling out aloud, "Kill! Kill! Kill!" the last thing you want to do is waste time flirting with a dumb twit or worthless loser. So, you need to know who's out for hunting and who's the one being hunted.

Spouses at home and colleagues at work. Here's how some tricity couples balance the professional and personal spheres…
You had an early-morning fight with him and yearn to get away by sneaking into office. You have a funny office anecdote to share and can't wait to meet her at home…but what if it's the other way around? A half-cracked joke from the breakfast follows you to the office, a smile to one special colleague also brings that twinkle to the eye, half-finished files proceed back home, because you didn't put that cap back on the tube of toothpaste means that your co-worker treats you as an irresponsible person. Khushwant Randhawa's 13 ducks, two dogs and seven Guinea Fowls complete his family
Old man Donald had 13 ducks on his farm…. A total of thirteen ducks, two dogs, Blackie and Brownie, and seven Guinea Fowls- complete Khushwant Randhawa's world. This agriculturist and rallyist from Patiala has done everything to keep this world healthy, quacking and bowing. The North-East art and craft exhibition has something for everyone

Now, this would explain further why Wordsworth or Keats devised the term 'mother nature'. The North East arts and craft exhibition in Sector 34 has on display furniture, home décor items, clothes, accessories and even art, all made from natural products. "All we do is optimally use natural resources, team it up with creativity to make the end products," says Subir Kundu from Assam who has a stall of cane and bamboo furniture every year here. The designing of the furniture has undergone a major change and is not limited to a uniform pattern that's been there ever since. "People usually buy cane furniture for the garden. But with the designs that we have come up this year, we hope, the furniture would find place in the living room as well." The furniture ranges anywhere between Rs 8000 to Rs 20,000.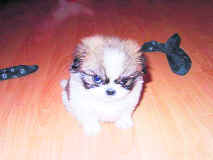 Pet theory
While aggression in dogs is a major problem accounting for more than 90 per cent of all the behavioral problems, the remaining 10 per cent can also be as vexing. In complete house breaking is one such challenge. Normally, house breaking habits crystallise in a puppy up to 8.5 weeks of age. A puppy, not house broken properly by that age or bought by some one after that age, poses a challenge.
Hair it is
The La Opulence, unisex salon, a leading name in hair styling, professional beauty care and skin treatments, launched its salon in the city recently. The salon specialises in hair colouring, hair styles, hair treatments like dandruff, scalp purifying and hair spa. La Opulence also announced 50 per cent discount on its regular rates keeping in mind the wide student community living in its vicinity.