M A I N N E W S
Hope turns into despair too soon
Sushil Manav
Tribune News Service
Sirsa, August 7
When they joined as first professional women bus drivers of Haryana in October 2007, they were hailed as bold women, who were showing the way to others.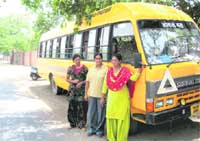 Women bus drivers (from left) Pankaj, Ritu and Raj Bala. Photo: Amit Soni

The district authorities took the credit for having taken a big leap in women empowerment and these women were also happy at the special treatment given to them by the authorities, the public as well as the media.

In less than two years, the women, who had joined the profession in the hope that they would be accepted by those surrounding them as any other colleagues, are now faced with the stark reality that life is never easy for women who dare to do something different.

Pankaj Chaudhary (23), Raj Bala (32) and Ritu (31) were the first professional women drivers to have joined services with the District Red Cross Society here.

Pankaj and Ritu used to drive buses of Government National College (girls wing) and ferry students to the college and back to their villages, while Raj Bala used

to drive the school bus of Prayas, an institute for special children. Raj Bala and Ritu took to driving of heavy vehicles for their fascination for driving, while for Pankaj, who does not have a brother, it came as of necessity as she started driving a tractor to help her father in fields when she was in Class V.

All went well for these three women drivers till the end of the last academic session in March this year when they were pressed into the city bus service run by the municipal committee once the schools and colleges closed. However, they were "grounded" within two months and are still to get their salary from the municipal authorities for the services rendered by them.

Half of the monthly salary of Rs 6,000 Raj Bala used to get from her school till March this year, was funded by the District Red Cross Society, but the Red Cross authorities have now refused to part with their part of her salary.

"We were provided one-room accommodation each in the safe environment of government quarters in 2007, but now we have been evicted from our rooms," alleged Raj Bala.

The three women drivers maintain that they are not sure of their status as no joining letters have been given to them this year, though they were given such letters last year.

"The attitude of some male officials has been improper and I had to complain to a senior officer of the district recently as two such officials had been pressuring me and seeking 'undue favours' in return for the release of our legitimate salary and emoluments," alleged one of the drivers, requesting anonymity.