THIS ABOVE ALL
Blend of beauty and grace
KHUSHWANT SINGH


KHUSHWANT SINGH
In my long life I have had the good fortune of meeting many beautiful women ranging from filmstars like Ingrid Bergman, a few Bollywood celebrities, including Nargis, Parveen Babi and a host of others whose names now escape me. However, if asked who I thought was the most beautiful of the lot, without hesitation I would reply Gayatri Devi of Cooch Behar, Rajmata of Jaipur.
Some years ago when a producer decided to make a film on her life, he could not think of anyone in Bollywood who could match Gayatri Devi in her looks except Aishwarya Rai. Besides having been a stunner in her younger days, I found her most unassuming, totally free of arrogance and unusual in her behaviour. She had been in poor health for quite some time. During this summer she was on her annual vacation in London. She had to be hospitalised.
Among the visitors was Prince Charles on behalf of the British Royal Family to enquire about her health. Following prolonged illness, she died at the age of 90. She was listed among the world's 10 most beautiful women. I first set my eyes on her at a lunch party in my father's home in honour of her husband. She was newly married. I kept gaping at her from a distance and wondering what made her agree to be the third wife of a man with a family of his own.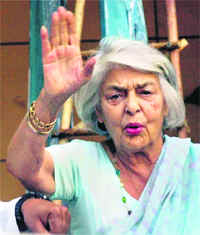 Gayatri Devi was most unassuming and free of arrogance


I never understood the code of immorality of our princely order. She killed her quota of tigers, played polo, married an already married man, a polo player. Next I ran into her in the home of Minoo Masani, leader of the Swatantra Party. Jayaprakash Narayan was the chief guest. Gayatri Devi had been recently elected Swatantra Party member of the Lok Sabha. She came in late and promptly sat down on the carpet beside Jayaprakash Narayan's feet.

He remarked in Hindi: Dekho zamana kaisey badal gaya hai (see how times have changed). A maharani sits at the feet of a commoner. When Indira Gandhi imposed the Emergency, among those she put into prison were Gayatri Devi and Rajmata Scindia of Gwalior. Their palaces were searched. Nothing incriminating was found. Nevertheless, both were kept in jail alongside prostitutes and pickpockets.

Indira Gandhi had a streak of vindictiveness, particularly towards good-looking women of the aristocracy. I met Gayatri Devi a few times in Prem Kirpal's flat. She occasionally dropped in on him to have a drink. She knew I was a supporter of Indira Gandhi. She did not hold that against me, nor ever said a word against Indira Gandhi. She allowed me to call her by her real name, Ayesha, and accepted my invitation to visit my home with her nephew.

I saw her wandering around unescorted in Delhi bazars, just getting the feel of how common people live. I saw her standing in a queue of servants and taxi drivers in front of a liquor vend to buy a bottle of booze. She invited me to Jaipur to address students of her Gayatri Devi High School on Parents' Day. I went. I told students: "Don't let your fathers choose your professions. Choose what you like to be the best. Don't let your mothers choose your wives or husbands. Choose your own. If it does not work out, get a divorce and try again. Learn to make your own mistakes. Don't waste your time on prayers. Its a lot of mumbo jumbo. Instead, read, work, have a good time." And so on.

Needless to say it went down very well with the boys and girls. Parents were appalled and protested to Gayatri Devi. She was amused. Later that evening she had hosted a dinner party for me in the hotel she owned. She was a little late. I asked her why. She replied with a smile: "I was doing my mumbo jumbo." a

Made for each other

When we see a happily married couple, we usually say, "they are made for each other." That is what most people say about Meghnad Desai and his Punjabi wife Kishwar. It is true but it took them a long time and earlier broken marriages to discover they were made for each other. Kishwar is the daughter of Rosha, who was head of the Punjab Police, and regarded as Chandigarh's beauty queen. She married a promising young man of her own caste and became Kishwar Ahluwalia.

She bore her husband two children. The marriage did not work out and her husband got a posting abroad. She brought up her children, sent them through school, college to further studies abroad. It was hard going, looking after offspring and paying for a flat she had bought in Delhi. She slogged, made films, wrote for papers.

One time she tracked me down to Goa, and then up to Kasauli to grill me for some TV programme. While pursuing her vocation, she interviewed Meghnad Desai. And they clicked. They had to wait a couple of years for their respective divorces to come through to get married. A Gujarati-born Desai settled in England. He made a name for himself as an economist of distinction, held high academic posts and taught at the London School of Economics for 40 years.

He was conferred a peerage to become Lord Meghnad Desai. He married an English woman, and fathered a couple of children. His marriage did not work out, and he separated from his wife. Though a British subject, he kept close contact with his mother country. For quite some time he has been writing a weekly column for The Indian Express. The President conferred the Padma Bhushan on him. For him it meant more than the peerage.

He is a most amiable, soften-spoken man with a computer memory of events the world over. She always bubbles with vitality and goodwill. Both are up to the neck writing books, making films and delivering lectures. Last time he gave me his first book, Dead On Time (Harper Collins). He has already several books under his belt on economics, Marxism, Muslim terrorists, Ezra Pound and Hindi films.

Between husband and wife, they have bought film rights to the story of Noor Inayat Khan, who was shot as a spy by the Gestapo in World War II. Meanwhile, Kishwar has also written her first novel, and is more than half way through her biography of Saadat Hasan Manto. She rattled out this information at a breathless pace and a victorious smile. The Desais are truly a dynamic couple made for each other.