COLUMNS

THIS ABOVE ALL
TELEPROMPT
GOOD MOTORING
AUDIO SCAN
WEBSIDE HUMOUR

FOR CHILDREN

CROSSWORD
ROOTS
RHYME TIME

Earlier Feature
TELEVISTA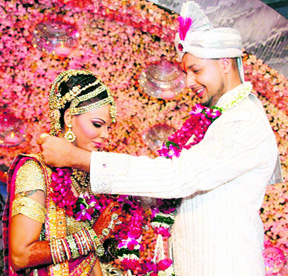 Indian soaps and sitcoms rediscover the power of tales of ordinary folk set in real milieu as the old order is eased out of the frame, writes Saibal Chatterjee
Recession or no recession, the show must go on. It does. The Indian television industry has always managed to devise ways to stay afloat. But no matter how hard it tries to keep the effects of the global economic slowdown at bay, keen observers of the game can detect a clear shift in the strategies and approaches of the leading broadcasters in the Indian satellite television space.

Reality shows like Rakhi Ka Swayamvar use generic entertainment devices to keep audiences hooked to the antics of ordinary people looking for their 15 seconds of fame as well as celebrities and film stars.

Ray's Prof Shonku on screen soon
Professor Shonku, the fictional scientist of Satyajit Ray's eponymous books for children, will now demonstrate his exploits to the global audience on screen under the direction of Sandip Ray, the film maestro's son.
Life's Lessons
A glass of milk
One day, a poor boy who was selling goods from door to door to pay his way through school, found he had only one thin dime left, and he was hungry. He decided he would ask for a meal at the next house.