Small is big again
Indian soaps and sitcoms rediscover the power of tales of ordinary folk set in real milieu as the old order is eased out of the frame, writes Saibal Chatterjee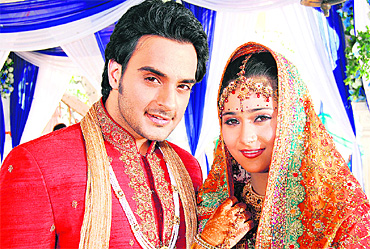 Soaps like Bidaai narrate stories that explore the trials and tribulations of girls in the context of India's age-old patriarchy.

Recession or no recession, the show must go on. It does. The Indian television industry has always managed to devise ways to stay afloat. But no matter how hard it tries to keep the effects of the global economic slowdown at bay, keen observers of the game can detect a clear shift in the strategies and approaches of the leading broadcasters in the Indian satellite television space.
In the topsy-turvy world of Indian television where viewer loyalty is fickle and you are only as good as the last episode of your number one show, the key players — producers, advertisers and broadcasters are invariably driven by their survival instincts — have gone in for a complete overhaul of programming and media plans.
The old stars of the small screen have given way to a phalanx of new faces. The glitzy interiors of wealthy urban households have been replaced by the more modest environs of rural or semi-urban dwellings as the five top Hindi general entertainment channels — Star Plus, Colors, Zee TV, Sony Entertainment Television (SET) and NDTV Imagine — slug it out on a weekly basis for market leadership.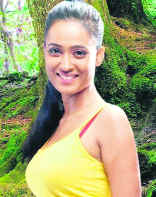 The likes of Aman Verma and Shweta Tiwari have been forced to reinvent themselves as stars of reality television.

Ad spends have declined sharply in the last eight to 10 months and naturally so have television production budgets. The changing rules of the game have compelled the key players, both broadcasters and producers, to look for programming ideas that ensure the highest mileage in terms of viewership at the lowest cost. Today, the industry pays its actors and technicians much less than it did about a year ago.
The result: many actors who ruled the roost for years riding on the popularity of Ekta Kapoor's 'K' serials are now either out of work or are being forced into reality shows of various hues. The likes of Aman Verma and Shweta Tiwari have been forced to reinvent themselves as stars of reality television.
"Nobody wants to take any major risk anymore," says Dheeraj Kumar of Creative Eye, a television software production company that has been in the business since the mid-1990s. "In today's economically shaky situation, you can't afford to be different simply for the sake of being different`85 So you have to come up with ideas that have an instant connect with the audience."
Interestingly, the revolution that is unfolding before our eyes today actually began well before the global meltdown kicked in. Balika Vadhu, a serial that had no known stars, premiered on a new-fangled entertainment channel, Colors, in July last year and went on to push long-running shows like Saas Bhi Kabhi Bahu Thi and Kasauti Zindagi Kay off the air. It also rocketed the channel to the top within nine months of its launch.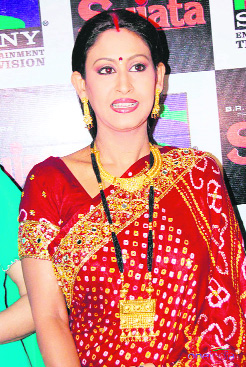 Despite well-known names in the cast, many serials like Sujata (Aman Verma and Indrani Haldar), Waaris (Ashish Vidyarthi and Iqbal Khan) and Kahani Hamari Mahabharat Ki (Ronit Roy, Sakshi Tanwar and Hiten Tejwani) flopped.

As narrative themes and backdrops underwent a transformation in the wake of the runaway success of Balika Vadhu, several big-ticket serials found the going tough. Despite well-known names in the cast, shows like Sujata (Aman Verma, Indrani Haldar and Sheeba), Waaris (Ashish Vidyarthi and Iqbal Khan) and Kahani Hamari Mahabharat Ki (Ronit Roy, Sakshi Tanwar, Hiten Tejwani and Anita Hassnandani) flopped. "It was a mystery to all of us," says a writer involved with the production of Waaris. "The serial had a great cast, a fantastic script and a prime-time slot. It had everything going for it. But it just didn't take off."
The resounding failure of Kahani Hamari Mahabharat Ki - it was from the Balaji Telefilms stable — caused a chain reaction and Star Plus, which was banking on another big Mahabharata-inspired serial being produced by Bobby Bedi — backed out of the deal. Balaji Telefilms, which was planning to launch a channel of its own after its bitter differences with Star Plus got out of hand, had to defer the plan.
A wave of panic hit the television industry. Many serials went back to the drawing board — characters were killed halfway through, some were packed off to mental asylums and storylines were changed wholesale, all with the purpose of reducing costs and enhancing viability. But these knee-jerk responses, made more out of sheer desperation rather than in response to any well thought-out damage control plans, were doomed to failure.
"The characters have to be real," says Purnendu Shekhar, the writer of successful serials like Astitva, Saat Phere, Balika Vadhu and Jyoti. "And to make them real and tangible you have to place them in real and life-like situations. Rambling dialogues and ridiculous camera angles do not work anymore. Your serials must have something to say."
The result is there for all to see: the general entertainment television channels have moved away from escapist storylines about the filthy rich to embrace themes that revolve around real social issues that were once the preserve of the national broadcaster, Doordarshan. Serials like Balika Vadhu, Na Aana Iss Desh Laado, Agle Janam Mohe Betiya Hi Kijo and Bandini, which variously tackle themes like child marriage, female infanticide, dowry harassment and women's empowerment, have found instant takers among viewers and advertisers.
Moreover, shows like Bidaai, Jyoti, Dehleej, Yeh Rishta Kya Kehlata Hai, Saat Phere and Betiyaan narrate stories that are rooted in recognisable milieu and explore the trials and tribulations of girls in the context of India's age-old patriarchy.
Television in this country of over one billion people now looks and feels very different from what it did early last year. The artificial glitz of the 'K' serials has been jettisoned, hopefully for good. While pure entertainment has moved into the domain of reality television, the fictitious worlds, being conjured up by the soaps and sitcoms, are drawing their inspiration essentially from the social environment that we live in. A recession does have its uses for it forces a change in pace, often for the better.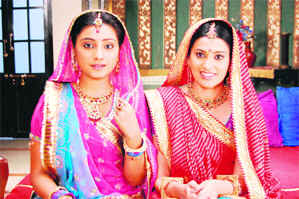 Balika Vadhu, a soap with no known stars, premiered on a newly launched Colors, in July last year and went on to push long-running shows like Saas Bhi Kabhi Bahu Thi and Kasauti Zindagi Kay off the air. It also rocketed the channel to the top within nine months of its launch.

Media analysts believe that the metamorphosis has stemmed from the fact that the urban upmarket television channels have realised that viewers in the big cities are no longer as committed as they once were to the predictable fare that they were dishing out on prime time. They have numerous other entertainment options unlike viewers in the smaller towns and semi-urban areas that are now being pulled into the orbit of influence of the frontline Hindi entertainment channels. So, as scriptwriter Purnendu Shekhar points out, "clutter-breaking ideas" are in vogue and "a credible cultural and social feel" has become a must for television serials.
As a consequence, Balika Vadhu is set in a Rajasthani village, Na Aana Is Des Laado is the story of a Haryana hamlet and Jugni Chali Jalandhar travels into the heart of the small-town Punjab. On the other hand, reality shows like Rakhi Ka Swayamvar, Iss Jungle Se Mujhe Bachao, India's Got Talent, Dus Ka Dum and the controversial Sach Ka Saamna, among numerous others, use generic entertainment devices to keep audiences across the country hooked to the antics of ordinary people looking for their 15 seconds of fame as well as celebrities and film stars.
Even as Rakhi Sawant has the entire nation in thrall as she goes about choosing a bridegroom for herself on a widely watched television programme and Salman Khan delights his fans with his no-holds-barred demeanour on a game show that thrives on the presence of celebrity participants, region-specific stories have emerged as the order of the day in the sphere of television fiction. Viewers now have the best of both worlds.
Even on an all-comedy channel like Sab TV, the focus is on ordinary folk. In Tarak Mehta Ka Ulta Chasma, viewers are treated to the highs and lows of the lives of a disparate bunch of people who reside in a cooperative society. Though it isn't a terribly original idea in terms of its theme, the sitcom works because it never tries to outreach itself and stays within the parameters of the genre. The idea is to know what works and what doesn't - the recessionary trends have served to cut out the flab of television programming.
Asit H. Modi, the producer of Tarak Mehta Ka Ulta Chashma, says: "Budgets have been squeezed all right, but channels don't usually compromise with respect to quality. They do not baulk at spending money on shows that are delivering the goods, but they waste no time in tightening the purse strings when a show doesn't click." It is easy to see why opulent sets and elaborate costumes are out of favour at present.
A freshness of ideas is sweeping through the cash-strapped television industry also because the budgetary constraints have motivated broadcasters to turn to smaller production houses and independent software producers "who offer good quality at lower prices". And that is also precisely the reason why broadcasters are investing in new talent to drive the next phase of growth.
The likes of Smriti Irani, Sakshi Tanwar, Shweta Tiwari and Sangeeta Ghosh dominated the scene for close to a decade. Today's female television stars are a totally fresh lot - Avika Gor and Vibha Anand of Balika Vadhu, Sneha Wagh of Jyoti, Hina Khan of Yeh Rishta Kya Kehlata Hai and Ratan Rajput of Agle Janam Mohe Betiya Hi Kijo, Parul Chauhan of Bidaai, Aastha Chaudhary Baabul Ka Aangan Chhutey Na, among a host of others.
But there seems to be one warning signal: the Indian television industry has got over its 'K' fixation only to be gripped by another. 'B' is the new 'K'. Consider the slew of titles that begin with the second letter of the English alphabet - Balika Vadhu, Bidaai, Betiyaan, Baabul Ka Aangan Chhutey Na, Baa Bahoo aur Baby and the upcoming Bhagyavidhata. The list is rapidly swelling. Viewers who want variety - these are the very people, whose growing distaste for Ekta Kapoor's fluffy fabrications, was instrumental in bringing about a dramatic change in focus — would be hoping that the new fixation does not go beyond what it is at the moment — a mere numerological obsession. If it does, we might witness the beginning of yet another avoidable rut.