Saga of trials and tribulations
Shakuntala Rao
In the Valley of Mist: Kashmir: One Family in a Changing World
By Justine Hardy.
Free Press, New York.
Pages 209. $25.
MANY of us who have occasionally worn a pheran, the large, often beautifully embroidered Kashmiri woolen tunic, always well-suited for northern India's chilly winters, have noticed its gradual disappearance from the shops of Delhi. There are good reasons, according to Justine Hardy, in her latest non-fictional account of life in Kashmir, In the Valley of Mist, because the pheran has emerged as a symbol of separatism, death, and oppression.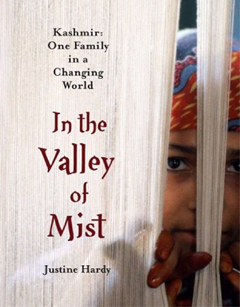 Pheran, she writes, is the omnipresent marker of the complicated political and cultural history of Kashmir. Every ethnic group claims it in a land populated with Hindus, Muslims, Sikhs and nomadic tribes, and ruled by British, Gurkhas and Pandits. Kashmir went through a volatile metamorphosis starting in the late 1980s and what emerged was ethnic cleansing of unprecedented levels.
Hardy, who has visited the region extensively since 1989, takes copious interviews and provides day-to-day detail from the Kashmiri families she befriends, from refugees of the war, from Kashmiri diaspora abroad (her interview of poet/writer Agha Shahid Ali at his home in Amherst, Massachusetts, is deftly inserted in the narrative), and the paramilitary troops who man the LoC (Line of Control) between Kashmir and Azad, the part of Kashmir controlled by Pakistan.
There are no winners in the battle for Kashmir, she writes. The Pakistan government has heavily invested in continuing a low-level warfare by setting up training camps for separatists along the LoC; the Indian government pumps millions of rupees in deploying large security forces who often do not understand the geography or culture of the land; Mujahideens, who entered Pakistan after the end of the Soviet invasion, run the training camps and continue to kidnap young Kashmiri boys, raping and sodomising them and creating the culture of fedayeen warriors, to send them back to India to attack paramilitary forces.
Interwoven in the political narrative of the book is the life of three brothers of the Dar family, Kashmiris for generations, houseboat owners and carpet sellers, their story of survival and stories of their wives and children, as the battle rages in the Valley.
Before reading In the Valley of Mist, one could cynically speculate if readers need "another" book on Kashmir, but after reading Hardy's account—the unimaginable tragedy that has unfolded and has largely remained undocumented outside of official figures—one wonders if "enough" has been written about Kashmir.
Hardy, a journalist and travel writer who has written extensively on travels to India and, whose earlier books, The Wonder House, Goat, and Scoop Wallah, have been much more light-hearted fares, has given us a book with sharp political undertones and a critical perspective rarely seen in travelogues.
Hardy uses the truth as observed firsthand to detail arid, hopeless policy of India, Pakistan, and the US in an unpromising part of the world. She employs a fine journalistic restraint, by which I mean she does not force irony or paradox but leaves that process to the reader. Nor does she speculate on what she does not see. These are worthy attributes, and whether their roots are in journalistic discipline or not they serve this unforgettable narrative superbly.
In the tradition of writers like Dexter Filkins (author of The Forever War about war in Afghanistan) and Rajiv Chandrasekaran (author of Imperial Life in the Emerald City about war in Iraq), Hardy will take her place as the pre-eminent recorder of the Kashmir conflict, the heart of these heartless exercises in disaster, maybe some consolation to those maimed and bereaved in them.