Tribute to Indian companies
D. S. Cheema
India's Global Powerhouses
By Nirmalya Kumar.
Harvard Business Press.
Pages 250. Rs 695.
Goldman Sachs, a reputable merchant banking firm, predicted in its 2003 report "Dreaming with BRICs: The Path to 2050" that India's economy would be only behind the US and China by 2050, even if it grows at a conservative 7 per cent annually. Many other research systems have endorsed this assessment since this report was published. Why does the world think that this century belongs to India and she is on the verge of becoming an economic superpower? The answer lies in India Inc becoming a global brand because of its unique strengths despite its equally visible unique weaknesses.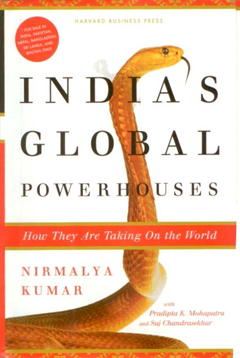 This book is a befitting tribute to Indian companies, which have emerged as global powerhouses. There is indeed enough reason for the nation to celebrate its transition from "outsourced and made in India" to "imagined and owned in India". Kumar, professor of marketing at the London Business School, captures in the book the details of India's people, companies and strategies that are making our companies highly competitive globally. The book documents Indian companies' journey since the early 90s, when India opened its economy to the world.
In the introduction, the author discusses India's uniqueness because of which it is no longer viewed only as the world's back office for outsourcing and has made the world sit up and view her through a new lens. Kumar narrates the dramatic changes that are coming about in the global business scenario, forcing the young and ambitious of the world to look towards India or China. Arguing that the 2008 economic slowdown has only reinforced that growth and potential of the East cannot be matched by the West, he rightly says, "Now, all that remains is for India to claim its own success".
The first chapter provides a historical background of transition of Indian companies from local to global players, while the last chapter discusses the "dual identity" of the Indians in India and the Indians outside India as customers, competitors and collaborators, which makes Indian businessmen more acceptable in the world. No wonder Forbes magazine's 2008 list of billionaires includes 53 Indians, more than any other country except the US, Russia and Germany.
The other nine chapters of the book are case studies of carefully selected, most deserving of Indian global powerhouses. The first case study rightly belongs to Lakshmi Mittal's Arcelor Mittal which is a Fortune 500 company with its corporate headquarters in Luxembourg. Its growth from 1989, when Mittal acquired the iron and steel company of Trinidad and Tobago, to 2005, when Arcelor was merged with Mittal Steel, is nothing but an exceptional journey. Areclor Mittal is truly global as it has a leadership position in four continents.
Perhaps the obvious choice for the second global powerhouse case study is Infosys, whom the author calls "the poster child for Indian outsourcing". Infosys, born global in 1981 with a 250-dollar start-up capital, is a 4-billion dollar company with 91,000 employees and over 98 per cent revenue from international clients. Infosys has also become one of the most respected companies by adopting a code of corporate transparency in consonance with Naryana Muthy's oft-uttered statement, "the softest pillow is a clear conscience".
The next on the list is Pune-based Bharat Forge, which is the second largest forgoing company in the world, while Essel Propack, number one in the world in laminated tubes with 32 per cent share, Hindalco, Aditya Birla Group's flagship company which acquired 6-billion dollar Novelis, Mohindra and Mohindra, among the top five tractor brands in the world, and the 2006 Forbes most-respected company, Hidesign, Marico, Godrej, VIP and United Breweries are the others global powerhouses.
Suzlon's rise from a small textile mill with 20 employees to a leading-edge producer of wind turbines is a unique success story and hence deserves to be on the merit list. Tata Group, another outstanding success story, is the most-respected Indian conglomerate that exports products and offers services to 140 countries. With 12-billion dollar plus deal to purchase Anglo-Dutch steel giant Corus in 2007, Tata has become the biggest steel manufacturer in its category. The Rs 1-lakh car Nano represents the perfect marriage of Tata's philanthropic and commercial interest. Indeed, Tata Group belongs to the category of Indian global powerhouses.
Only Kumar's lucid style of illustration can make a business management book as absorbing as is the present volume. It is a must read for every prospective businessman.