urdu book review
Hope amidst ruins
Amar Nath Wadehra
Yeh Khandar Bhi Mere Hain
By Kashmiri Lal Zakir
Buzm-e-khizar-e-rah.
Pages 123. Rs 175.
WHEN a writer feels impelled to pick up a pen to write about suffering humanity there can be only one reason for it — unadulterated empathy, which in turn is a product of heightened sensitivity and deep insight. The writing becomes all the more effective and cerebral if it is backed by informed imagination. Kashmiri Lal Zakir has all these qualities as seen in his earlier books. This volume is just another proof of his acumen. In fact the very title (rough translation: these ruins belong to me too) shows the extent and depth of the author's feelings for the stricken.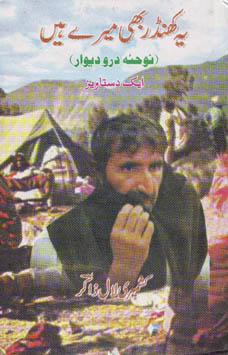 According to popular belief destruction and reconstruction is the nature's way of maintaining balance in the universe. It is believed that when sin and atrocities exceed a certain limit and when the earth gets over-burdened with all sorts of excesses then nature restores balance by resorting to extremities like tsunami, earthquakes and other natural calamities. Be that as it may, but it is true that earthquakes are a horrid reality. We can give several examples from the recent past, like Quetta (May 31, 1935), Pakistan (December 28, 1974), Nepal (August 20, 1988), India (October 19, 1991, September 3, 1998 and January 26, 2001) and Afghanistan (February 4, 1998, May 1998, and March 25, 2002).
On October 8, 2005 Kashmir was hit by an extremely destructive quake which had its epicenter in Muzaffarabad located in POK. With one stroke it turned the paradise on earth into a veritable hell. Thousands of people belonging to different communities died, wounded or became handicapped for life.
Whether these were humble homes of common folks or mansions of the rich furnished with all possible luxuries, all were razed to dust. People, who lay helpless under the debris, were crying out for a sip of water. They were praying to the almighty for deliverance unaware whether these prayers were reaching Him or not. Almost every country around the world offered help. The Government of India empathised with the suffering masses in POK and unhesitatingly dispatched all essential items.
Zakir has provided many touching eyewitness accounts in this volume. Some are recounted below.
Flowers do bloom even amidst thorns, thus inspiring man to persevere in the quest of life. The month of Ramadan had begun. A girl named Safina, with the permission of her father, had taken goats out for grazing. Suddenly the quake struck and huge boulders rolled down the mountains. Safina got crushed under one such rock. Barring a leg the entire body was under the rock; her father, Nazeer Abbasi, could identify her by looking at the leg. He pleaded with many passersby to help him take out the body from under the rock but to no avail as everybody was in panic. At last a team of 15 BSF jawans came to his rescue a la angels from heaven. They removed the boulder and retrieved the body, thus offering solace to the grieving father.
Zakir also provides a journalist's eyewitness account in these words, "I met a boy among these ruins who was frequently searching his coat's pockets. I asked him what he was looking for. The boy shyly gave me a piece of paper and said that it was his beloved's love letter which she had sent through someone. When I read it I was moved by its contents that said that when the earthquake struck she called out the boy's name instead of God's." Truly, love can bloom even among thorns and ruins.
Two childhood friends, one of whom had migrated to Pakistan, came face to face at a command post. They could not embrace each other and only conversed from a distance of 10 feet, as ordered by the authorities on both sides who had set up five posts to facilitate interaction between people from both sides of the LOC.
This book has stories of poignant moments, of common folks' grit, fortitude and optimism in the face of tragedy and of the triumph of humanity transcending all barriers and prejudices. The contents of this book linger on your mindscape long after you have finished reading it.