Greene's unfinished mystery found
Arifa Akbar
IT was a gem of a find, a long-lost unfinished murder mystery tale containing the classic ingredients of a country house, a dead body, bloodied weapon and a cast of upper-class suspects. It was also handwritten in Graham Greene's distinctive scrawl and included the Catholic themes that were hallmarks of much of
his work.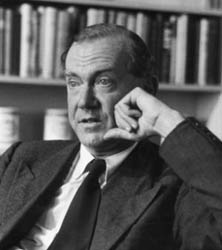 Graham Greene

Just one problem: the novel didn't have an ending.
This manuscript of a five-chapter-long crime thriller, titled The Empty Chair and written by Greene in 1926, was discovered in the vaults of a Texas University archive last year.
The unfinished story was one of Greene's earliest attempts at writing fiction, penned when he was 22 and abandoned decades before he went on to craft Brighton Rock and The Quiet American.
But it will soon be possible to read the story for the first time in the American literary journal The Strand Magazine, which first published Arthur Conan Doyle's Sherlock Holmes stories and whose contributors have included P.G Wodehouse, H.G Wells, Agatha Christie and Rudyard Kipling.
The Empty Chair will be serialised over the next five editions of the quarterly crime publication. Its editors intend to launch a competition inviting readers to write an ending to the story — and they may also enlist a professional writer for the task.
The novel opens with Alice Lady Perriham, an actress married into the aristocracy who was "exquisitely conscious of looking no more than 35". She hosts a house party.
Her guests discover the body of Richard Groves, described as "a dark, surly, underhand brute" with a knife plunged into his chest.
"It's a sort of traditional country house murder mystery and has all of the ingredients of a traditional whodunit," said Andrew Gulli, the managing editor of The Strand Magazine. "But in the case of The Empty Chair, Greene manages to combine many of the great characteristics of his work, seamless prose, tight dialogue, and we have characters speaking about some of the themes that Greene was famous for such as discussions about good and evil.
"Although he wrote it when he was 22, it's clearly a work by Greene, the work of a mature writer." There is an obligatory priest.
On the subject of the new endings, Gulli said: "Whatever happens, we want to make sure the estate of Graham Greene is happy. If they are interested in finding an author (to finish it) that would be great, if they are interested in a readers' contest, that is also great."
In the same year he wrote The Empty Chair, Greene converted to Catholicism and started working on a trial basis as a sub-editor at a London newspaper. He soon decided he would try to forge a career as a successful novelist.
The text was discovered by a French academic, Francois Gallix, who was immersed in a research topic called Graham Greene New Perspectives when he stumbled across the story and transcribed the 22,000 handwritten words.
Other manuscripts to have lain hidden in archives for decades before being discovered include works by Ernest Hemingway, Mark Twain, Vladimir Nabokov, William Styron, Mary Shelley and J.R.R Tolkien.
—By arrangement with The Independent