Food talk
Pakora the Japanese way
Enjoy the crunchy and crisp tempura in this rainy weather, writes Pushpesh Pant

FOR reasons beyond our comprehension an old Hindi film song has been haunting us for past few months — Le gayi dil gurhiya Japan ki. The lyrics aren't particularly poetic and no one has ever rated this as a hit number, considering it a classic is out of question. Why then have we been rendered restless by the musical call from the Land of the Rising Sun?
The mystery was solved when we found ourselves seated in Tamura the renowned Japanese standalone restaurant in New Delhi's Vasant Vihar. We were invited to sample their fare by family and it dawned on us then that what we had experienced was Jungian synchrony — an uncanny premonition of future events. Well who is complaining? The food was delightful and brought alive memories of other Nipponese feasts.
The Japanese cuisine is very different from other East Asian repast. It should not be treated as a distant cousin of the Chinese fare. Noodles, rice and the sauces may appear similar but the likeness is skin deep. The philosophical bases of two gastronomic traditions are poles apart.
The Japanese delicacies are more akin to ancient Indian satvic dishes. But this by no means should lead you to the conclusion that Japanese food is bland. Human interference, ideally, should be minimal but flavour is never compromised. On the contrary it is subtly enhanced.
Preferred diet puts a premium on fish, seafood, dried mushrooms and tofu. Radish and rice wine are used as condiment. There is much more to this cuisine then sashimi, sushi and wasabi. All these are acquired tastes.
For compatriots, the best introduction is tempura — best described as the most sublime avatar of pakora. The batter is not besan and is seductively translucent — the prawns, brinjal and okra — jhinga and bhindi were crunchy and crisp retaining their natural colour, texture and taste. One felt that the light soya sauce was superfluous. Do try this out at the earliest before the rains disappear.
Tempura
Ingredients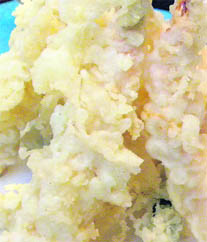 Prawns large-sized six
Brinjal medium-sized ½
Onion medium-sized one
Lady fingers 3-4
Egg one
Plain flour 200gm
Ice cold water 1 cup
Ice cubes 2-3
Salt to taste
Oil to deep fry
Soya sauce 2 tbsp
Method
Shell, de-vein, clean, wash and pat dry the prawns. Slice the brinjal into ¼ inch thick pieces. Wipe the ladies fingers with a moist cloth. Peel and halve the onion then slice them.
Beat the egg a little. Blend with water and plain flour to obtain a lumpy batter. Sprinkle salt and mix. Put the ice cubes in the batter.
Heat the oil in a pan to smoking point then reduce the flame to medium.
Dip the prawns in batter and drain excess batter. Lower the prawns one by one carefully. Remove when golden. Place on absorbent paper. Repeat the process with the vegetables. Serve immediately with soya sauce.