Radio service for the poor
Women belonging to the weaker sections are participating in community radio
programmes. An experiment titled Science For Women (SFW) aims to link their daily
lives with science through this medium. The anchors are taught how to conduct
interviews and produce programmes, reports Sushmita Malaviya

When credits of a film roll, we see the names of those who made the film. They must be feeling proud seeing their names. Today, women associated with Anna Community Radio (Anna CR) have a similar sense of accomplishment. We know we have the talent to make radio programmes just like famous filmmakers.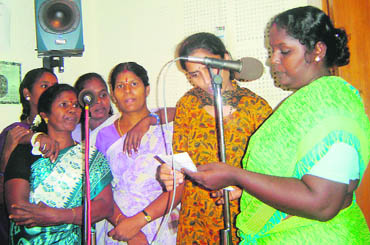 Jamila (extreme right) along with other community women recording a programme at Anna CR, Chennai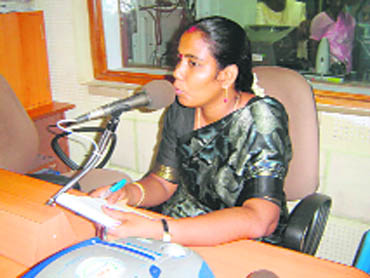 Under community radio projects, women are briefed on communication skills to enable them to produce programmes Photos: WFS

When Mallika (35) of Kotturpuram, Chennai, says this, she sums up the feelings of a growing number of women— around 500—in India, who are learning and participating in community radio programmes. Across the country—in Perunthurai, Tiruchirappalli, Ludhiana, Baramati, Bengaluru, Chennai, Puducherry, Dharwad, New Delhi, Rajasthan and Thiruvananthapuram—an experiment titled Science For Women (SFW), conducted by select educational institutions, aims to reach out to women and link their daily lives with science through innovative radio programmes.
The project is sponsored by the Rashtriya Vigyan Evam Prodyogiki, Department of Science and Technology, Government of India. The Commonwealth Educational Media Centre for Asia (CEMCA) plays a catalytic role in the project supporting baseline surveys, capacity building and mid-term monitoring. The pilot study for the SFW was conducted at Anna Community Radio, Anna University, Chennai, recently. "Anna CR is Anna University's contribution to society to ensure the dissemination of knowledge to weaker sections of society," says Dr M. Alagar, Director, Educational Multimedia Research Centre (EMRC), Anna University.
The community radio initiative in India seeks to provide media access to communities, give voice to the voiceless, especially those that the mainstream media and commercial FM ignore. This form of radio is intended by and for communities. While ownership of hardware and licence is currently vested with an educational institution or an NGO, the community is expected to be mobilised to own the content and participate actively in running the station, including determining the agenda by sitting on the programme advisory committees.
Under the Anna CR project, 40 women training to be radio jockeys were briefed on issues related to health, nutrition, computer basics, yoga and communication skills. In the initial stages, the university students helped train these community volunteers with digital recorders. Mallika, who has studied up to class XII, became a community volunteer for Anna CR. She was initially hesitant to join up when the university first approached women like her and encouraged them to support a baseline survey. Once Mallika agreed to come on board, she was put through a capacity-building exercise, and was soon participating in interactive programmes.
At Anna CR, women's roles are determined by parameters like time, interest, capabilities, and willingness to participate. At the highest end of participation, women create and produce content for broadcasting for the station, which has a reach of 15 km within Chennai. In India, the law permits a transmitter of 50 watts and a tower height of 30 metres from the ground level. On flat, uncluttered terrain, like in Baramati (Maharashtra), the signal reaches beyond 20 km. However, since FM is basically line-of-sight transmission, in cities like Chennai and Kolkata the area covered could be reduced to just 5 km because of high-rise buildings.
Says Mallika: "We had no idea about such things and were curious about why the university was interested in working with women in our community in Kotturpuram." But she soon understood her role in disseminating much needed information to the community, and reveals that her "confidence began to soar" when she started interviewing doctors and experts for the programme, Magalir Neram.
Another trainee, Jamila John Bosco (32) of Kannagipuram, who has worked as a guest executive with a leading hotel in Chennai, says she was thrilled when she was invited for the three-month training at Anna University. Jamila, who has a master's degree in English literature and is also fluent in Tamil, revealed that participatory programmes designed on a specific issue encouraged women like her to think about the benefits of science. There was another incentive. By correctly answering questions during an interactive show, they won household items as prizes. "Our programme format is simple. We take a vox pop, opinion of the doctor/expert, add our research, take soundbites from the community and draw a conclusion," explains Jamila, who has been making programmes since quite some time. "As we gained confidence, we came up with lots of ideas. I would browse through magazines and weave information I collected into the programmes I was making," she says.
Gracy Kannan (33), associated with Anna CR for the past four years, recalls: "When I first heard my voice on radio, it felt very good. Today, I know how to conduct an interview, how to hold the mike, how to produce programmes." An accomplished housewife, who had earlier spent her time on embroidery and watching television, Gracy admits that she only got to know of Anna CR during the training. "It was quite challenging to try and write a script and get the community to speak. But I was interested in doing this work. So I carried on," she explains.
Around 135 km away, in Puducherry, there is further evidence of the impact of community radio. A programme produced by the Nila Community Radio (Nila CR) run by the Sri Manakula Vinayagar Engineering College compelled a village panchayat to address the serious issue of contaminated groundwater.
As another young enthusiast Ezhilarasi honed her skills, she interviewed Dr Shah Nawaz Khan at Manakula Medical College regarding the problems of villagers. Following the broadcast of her programme, Manakula Medical College held a health camp in Kumulam, and the findings of the camp were shocking. Shares VSK Venkatachalapathy, Principal, Sri Manakula Vinayagar Engineering College: "Due to pollution from factories around the village, the groundwater was contaminated, and the health camp revealed that there were several cancer patients in the village."
Through a series of programmes, Ezhilarasi detailed symptoms of cancer and encouraged listeners to get in touch with the Manakula Medical College. After listening to her programme on "Awareness of Cancer," those with livestock, too, became more alert. This in turn forced the panchayat to change the source of drinking water in the area.
Back in Chennai, Dr Alagar says that community radio has helped in creating awareness about science and the community, with focus on women and children-related programmes. Anna University has started implementing phase II of the Department of Science and Technology's Science for Women project. Once this phase is completed, Anna CR's outreach will cover six more already identified locations, and the number of community volunteers will increase to 150. Breaking the sound barrier has become the norm for this unique community radio initiative. —WFS