Queen of ghazals
Homai Batliwala

AFTER Begum Akhtar, Farida Khanum of Pakistan is widely regarded as the world's number one female ghazal singer, a position she has enjoyed for over three decades, especially after the demise of Begum Akhtar in 1974. In fact both these famous ghazal singers had the same guru – Ustad Ashiq Ali Khan.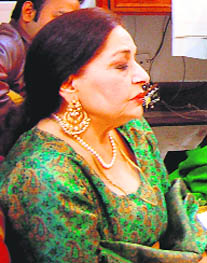 Farida Khanum's most famous ghazal, "Aaj jaane ki zid na karo", is one of the best-known numbers in the subcontinent

According to music critic Shanta Serbjeet Singh, after Begum Akhtar, Farida Khanum's voice has got the character suitable for ghazals. It is sensuous but not earthy. It is honey sweet but not cloying. Her wizardry lies in her high-speed taans and sargams (note patterns). She picks up a poetry stanza and takes it to a height, where it touches the borders of the classical singing, and then brings it back to the sublime level of the ghazal. This layakari (rhythmic wizardry) in khayal tradition has earned Farida Khanum, the title Mallika-e-Ghazal, (queen of ghazals).
In 2005, she was also awarded the Hilal-e-Imtiaz, Pakistan's highest civilian honour. The only other Pakistani artiste who had been accorded this honour was Ustad Nusrat Fateh Ali Khan. In the same year Farida Khanum was honoured with a prestigious Indian Ustad Hafiz Ali Khan award. It was presented to her by Prime Minister Manmohan Singh in Gwalior, who complimented her: "Listening to your music and seeing you immersed in emotions, we feel the power and presence of God."
Born in Kolkata in 1934 and brought up in Amritsar, she learnt khayal as well as light music from her sister Mukhtar Begum, and then from the stalwart of the Patiala gharana, Ustad Ashiq Ali Khan. In 1947, the family migrated to Pakistan. Farida Khanum could not continue her training, as she would have liked. She also realised that that she could not be a great concert artiste like Roshan Ara Begum or Ustad Bade Ghulam Ali Khan, who could sing for three hours without a break, before a rapt audience. In her own words: "I thought what's my mukaam (stature) in front of them? I then decided to stick to light classical music. Understanding my weaknesses helped me to build on my strengths."
Pursuing her goal, she excelled and endeared herself to generations of music lovers in Pakistan, India and the world. Khanum's recitals epitomisze chaindari (a leisurely style of singing) and nafasat (the sensitive enunciation of lyrics) – two essential ingredients for a good ghazal performance.
Her first concert was in Lahore in 1950. She got married a few years later and her husband forbade her from singing in public and asked her to focus on their family. Fortunately, in 1965, he had a change of heart and allowed her to pursue her ambition. She barely got time for riyaaz while bringing up her children. She explains, "Even if I wanted to do riyaaz, there was so much post-Partition opposition to music in Pakistan that if one practised in the morning, the neighbours would complain."
Khanum's most famous ghazal, "Aaj jaane ki zid na karo', is one of the best known numbers in the subcontinent. Asked about how she came to sing the timeless Aaj jaane`85 she replies, "I think it was something that had to reach the people, and I was there to sing it. I initially sang it for a film that disappeared from the theatres within three days of its release. Later, when I sang it at a private function, the audience appreciated it. Word spread and it became popular."
The success of this ghazal didn't propel her completely towards the film world, though she has sung for a number of Pakistani films and has also acted in a few. Her songs from the Pakistani movie Kasam Us Waqt Ki are among her most popular ones. In 2001, she appeared in Mira Nair's movie Monsoon Wedding, in which she sang the crowd's favourite 'Aaj jaane ki zid na karo'.
The queen of ghazals is aware of the dipping quality of ghazals in the subcontinent. On a visit to Mumbai in 2007 she spoke on the losing charm of ghazals: "The ghazals that are popular are of a lighter mode nowadays, the geetnuma ghazals. But then listeners too prefer this lighter stuff. So the ghazal exponents have compromised so that at least the audiences remain interested. There is indeed gayaki (musicality), even if it is in a lighter mode. Look at Jagjitji (Jagjit Singh). When he sings, there is poetry, musical quality, and simplicity too, so ordinary folks can understand. That's a good approach. He didn't go towards, say, pop. Similarly, Ghulam Aliji has brought his own style into the ghazal, and it is much appreciated. So ghazal singers have managed to make their mark, even without concentrating exclusively on sher-o-shayari (poetry)."
Farida Khanum is deeply religious, and does not accept any concert engagements or grant any interviews during the month of Ramzan. The followers of her soulful renditions would feel disheartened to know that Khanum has cut down on her public performances. "Unless I find the right kind of audience, I am reluctant to perform," she admits. She has another ongoing concern – Urdu's struggle to survive. She is disturbed by pop music, which has invaded films and television.
Had Partition not made her into a Pakistani citizen, she would have been not only a ghazal and thumri exponent but also a classical singer of the likes of Bade Ghulam Ali Khan . But if fate separated her from the land of her birth, it also made her rule the hearts of ghazal fans across the world, who extol her for the magnetic quality of her voice. That all-too-familiar coil and quiver of the lips, the relentless twinkle in the eyes, the poise and aplomb that can send many-a-heart reeling is miraculous. — MF