tribute
Remembering Leela
Actress Leela Naidu, who was listed in the Vogue among the 10 most beautiful
women in the world, was a class apart, reminisces Shoma A. Chatterji

THE concept of beauty is dynamic and subjective, that keeps evolving over time, place and person. But some people are born with beauty that is absolute and universal and remains the same across time and place. Leela Naidu was gifted with this absolute beauty. When I was a young girl, still in school, I happened to chance on an issue of Femina. This issue carried black-and-white photographs of the 10 most beautiful women in the world, carrying over from Vogue magazine. The two Indian beauties I will never forget are — Gayatri Devi, the Maharani of Jaipur and Leela Naidu, who later became a noted actress in Indian cinema. Somewhere else, I also happened to come across Leela Naidu's beautiful photograph when she was just 17 then, on the cover of an international magazine, which drew a lot of attention. Her beauty was as fragile as a porcelain doll and also had a dignity of its own.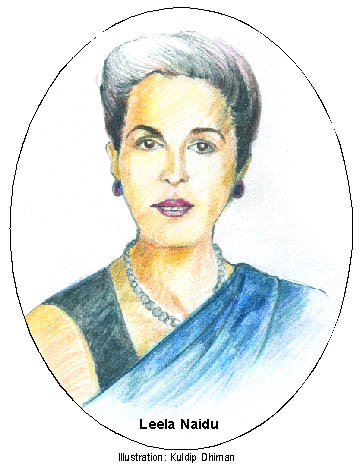 By some strange twist of irony, both women, one low-profile, remote and distant, the other, high-profile by virtue of her history, passed on yonder, a day apart, this July. While television channels went ga-ga over the passing away of Gayatri Devi, not many cared to go into loud flashbacks on Leela Naidu, perhaps an extension of the distant life she lived in Mumbai's Colaba area, where she continued to live after the passing away of her poet husband Dom Moraes some years ago.
I briefly happened to meet this beautiful, soft-spoken lady at a Durga Pooja mandap in Mumbai, soon after Hrishikesh Mukherjee's Anuradha made hers a familiar face among Mumbai's cinebuffs. I was mesmerised by her beauty, as she came and went quietly, without drawing the notice of the crowds there because in those days, there were no paparazzi or television cameras. She came and went, lending a whiff of fresh air to the spiritual air of Durga Pooja.
Leela was born in 1940 to renowned nuclear physicist Ramaiah Naidu from Andhra Pradesh, who was Science Director for UNESCO for South East Asia, while her mother was of French/Irish origin. In 1956, at the age of 17, she married Tilak Raj Oberoi, 33, scion of the Oberoi Hotels chain. After giving birth to twin daughters, the couple got divorced. After losing a bitter legal battle over the custody of the twins, Leela finally settled down in Mumbai. Hrishikesh Mukherjee, looking for a new face for his forthcoming film Anuradha (1960), zeroed in on the beautiful Leela Naidu to play the title role opposite Balraj Sahni after seeing some of her photographs clicked by Kamaladevi Chattopadhyay. She essayed the difficult role of the docile, quiet and submissive wife of a busy doctor who has no time for his wife or daughter. Marriage put paid to Anuradha's singing talent which the doctor realises later when his wife's old college friend (Abhi Bhattacharya), brings to his notice. The film did not do well at the box office but won the National Award for the Best film the following year. Nitin Bose's Ummeed (1962) that cast her with Ashok Kumar and Joy Mukherjee was a flop.
Yeh Raaste Hai Pyar Ke (1963) also did not do too well commercially but it created waves in the media world because it was a celluloid interpretation by filmmaker R.K. Nayyar on the infamous Nanavati murder case. It was a classic love triangle involving a naval officer, his English wife and her lover. When the wife confessed to the affair, the husband set off in a rage and killed the lover. The case gripped the nation in 1959, partly because of the Anglo-Indian mix and the clash of cultures and partly because of the aura of glamour and voyeurism it generated among the Mumbai public. The on-going debate about whether it was a crime of passion or whether the wife had manipulated the entire drama was another point of attraction. The case led to the abolition of jury trials in India, and the Nanavati case became a part of India's legal history.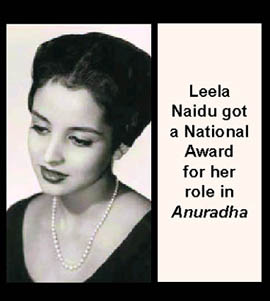 Leela was pencilled in to play the role of Sylvia, and readily slipped into the shoes of a real-life character few actresses would be prepared to enact. She fit into the role with her natural sophistication and style acquired from a partly foreign upbringing. Baaghi (1964), a costume extravaganza starring Pradeep Kumar, Vijaya Choudhury and Mumtaz, sank without a trace. She next appeared in the James Ivory production The Householder, a film version of a novel by Ruth Prawer Jhabwalla. She played the role of Shashi Kapoor's wife. After watching her performance in the film, Satyajit Ray, planned an English film, The Journey with Marlon Brando, Shashi Kapoor and Leela Naidu, but sadly the film never went on the floors. She lost out Vijay Anand's Guide (1965) to Waheeda Rehman, as she wasn't a trained dancer.
This was followed by a brief role in James-Ivory's The Guru (1969) in English, starring Utpal Dutt in the title role with Aparna Sen and Madhur Jaffrey playing the two women in his life. This was a film that did not carry the polish and finesse that the Ivory-Merchant banner was famous for and the audience rejected it outright. She retired from films after this to marry poet-litt`E9rateur Dom Moraes in 1970 and after having lived in Hong Kong for 10 years, they returned to Mumbai to settle down in their Colaba apartment. She staunchly refused to dye her hair and the silvery white mane only added to the dignity of this ageing beauty.
She was persuaded to return to films in 1985 by Shyam Benegal, to play a Goan family-matriarch in Trikaal. Shyam had earlier shot an ad film with her for a textile group and cast her as the old matriarch in his film. Electric Moon (1992), directed by Pradip Krishen was her last film. While explaining her acceptance of the Trikaal role, she said, "I was never interested in popular Hindi cinema and knew I would get very less opportunity to prove my talent in Hindi films. I liked the script of Trikaal and as Shyam Benegal was a progressive director who did not compromise commercially, I accepted the film. It gave me scope to use my facial veins and eyes to a good extent."