M A I N N E W S
NRI, teacher new fatalities
H1N1 toll touches 4;
6 battle for life in M'rashtra;
PM steps in to check menace
Tribune News Service & PTI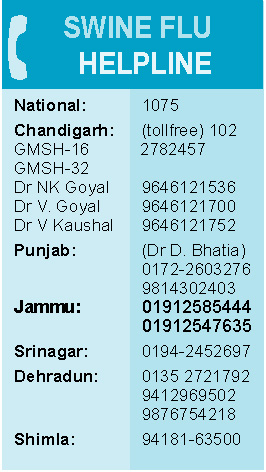 New Delhi, August 9
Swine flu today claimed two more lives, taking the total number of fatalities in the country to four. Praveen Patel (43), an NRI, who had come from the US 10 days back, died at Ahmedabad civil hospital, while Sanjay Tukaram (42), a teacher, breathed his last at government-run Sasson hospital in Pune.
Patel, who had come from Atlanta on July 31, is the first to succumb to the infectious disease in Gujarat where so far 10 people have tested positive for H1N1. He was admitted to a private hospital with pneumonia and common flu on Friday. The NRI's wife was also being treated for the ailment at the same hospital, state Health Secretary Ravi Saxena said.
With deaths due to swine flu going up, Prime Minister Manmohan Singh today stepped in and reviewed the situation, asking the health ministry to co-ordinate with state governments efforts to contain further spread of the disease.
The PM spoke to Health Minister Ghulam Nabi Azad this afternoon and asked him to ensure the right awareness on H1N1 and take steps to remove misinformation regarding it. PMO sources said the PM told Azad to set up a panel of experts and doctors to spread correct information about the H1N1 virus that causes swine flu.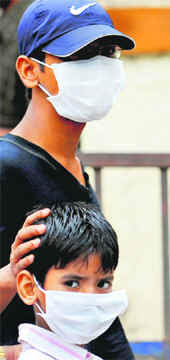 A man and a child wear masks as they leave a hospital after getting tested for swine flu in Mumbai on Sunday. — AFP

The PM also said the Health Secretary should be in regular touch with state health secretaries and take coordinated action to contain further spread of the disease, which has claimed four lives in the country so far. Azad told the PM that the country had enough stocks of Tamiflu tablets used to treat swine flu. "Consignments of one lakh (Tamiflu) tablets have been flown to major cities like Delhi, Mumbai, Pune, Chennai, Hyderabad and Bangalore," he said. Government has also decided to make available at least 10,000 tablets to each district if they require it at any point of time, Azad said. The health minister said every state has been asked to open a helpline to inform the people about the disease. Central teams have also been sent to worst hit areas, including Pune and Mumbai.
Pune, which has now seen two flu deaths, continues to be the worst-affected city with six patients in a critical condition.
A total of 82 positive cases were reported across the country today, taking the total number of patients to 864. Of these, maximum are in Pune (34) followed by Delhi (13), Mumbai (12), Chennai (7), Goa (4), Vadodara (3), Calicut (2), Hyderabad (2), Gurgaon (2) and Trivandrum (1). Sirsa in Haryana reported its first case today, so did Trissur.
Most of the new infections are indigenous with no history of foreign travel.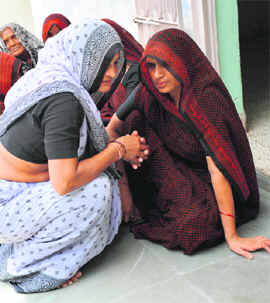 Relatives mourn the death of NRI Pravin Patel in Ahmedabad on Sunday. — AFP

In Pune, all 34 cases are indigenous mostly of school and social contacts with no travel history. In Mumbai, out of 12 cases, 11 are indigenous cases of contacts. All cases in Chennai are also indigenous, raising alarm of the spread of H1N1. Of 864 cases, 523 have been treated and discharged.
Southern states of Tamil Nadu, Kerala and Karnataka have, meanwhile, put their healthcare machinery on alert. Tamil Nadu has issued an advisory to people asking them to avoid travelling to Maharashtra unless necessary, while extending the screening for the virus even to the railway stations.
The deaths have sparked panic in the country's IT hub of Bangalore, where people thronged the referral hospital Rajiv Gandhi Institute of Chest Diseases (RICD), anxiously queuing up to undergo tests for the flu in the past few days. The three states had reported 168 cases of the flu till last night. The Karnataka government has instructed over 46,000 schools across the state to include H1N1 flu screening in the one-month free health checkup being conducted under the Suvarna Arogya Chaitanya Scheme from Aug 1. Screening continues in other parts of the country with two engineering students showing symptoms of swine flu being admitted to a government hospital in Jammu. The two, a boy and a girl, had come from a vacation in Bangalore and Pune respectively.

A man carries his child as he leaves a local hospital after being tested for swine flu in Mumbai on Sunday; and (right) Masked employees sell medicines at a Gurgaon medical store. — AFP/PTI