M A I N N E W S
Machines to detect fake notes missing at banks
Ruchika M. Khanna
Tribune News Service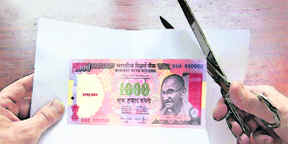 The RBI has, in its annual report, admitted that forged notes are finding their way into the banking system. In 2007-08, the forged notes detected by the banking system were 1,95,811 as against 44,225 million note pieces in circulation
Chandigarh, August 9
With most banks failing to install sorting machines at their cash receipt counters and currency chests, fake currency notes are slowly finding their way into the banking system.
Bankers in the region admit that several times fake currency notes are deposited at their counters along with the genuine ones. The vulnerable branches are located in remote areas, particularly the border districts of Punjab — Amritsar, Tarn Taran, Gurdaspur and Ferozepur. Here they reach after being smuggled from Pakistan.
From the border districts, these fake notes usually reach Jalandhar or Ludhiana, the two places the hub for the fake currency's onward journey to Delhi. The fakes are also being deposited along with genuine currency in remote bank branches of Himachal Pradesh. As these fakes are hardly detectable with a naked eye, thus they are finding their way into the banking system.
Laxity on part of the bankers is so much that at times when these fake notes are detected at cash receipt counters, the bank staff do not seize or cancel the notes. Rather, the fakes are returned to customers, who would then be using them elsewhere.
Admits a senior UCO Bank official: "The hassle of getting an FIR registered and following up the case to its logical conclusion keeps the bank staff away from lodging formal complaints… The need of the hour is dedicated police stations to tackle the fake note menace, as has been done by Himachal Pradesh. This will ensure that bankers come forward to report such cases without the fear of being harassed by the police."
Officials in the RBI informed TNS that they have issued instructions to all banks in the region to install sorting machines to detect fake notes at their currency chests, from where the money is sent for circulation.
"Though majority of the 300-odd currency chests in Punjab, Haryana and HP have installed these machines, they have failed to upgrade the software of these machines to keep pace with the changes in currency notes brought in by RBI from time to time. Citing its high cost (approximately Rs 20 lakh), banks are also not keen on installing these at their branches. The issue has been discussed often during the meetings of 'Standing Committee of RBI on Currency Management', but it has failed to maker much headway," a senior RBI official said while requesting anonymity.
The RBI has also issued instructions to all banks that each and every note which goes into circulation must be fit for the purpose. But as the banks are not sorting these notes, fakes are being circulated either through bank counters or many a times via ATMs. Interestingly, most private banks in the region are feeding notes in ATMs directly from the cash received at their counters (without sorting at branches and not from currency chests), which increases the risk of fake notes being circulated even more.