M A I N N E W S
In gloom, Punjab paints a pretty paddy picture
Chitleen K Sethi
Tribune News Service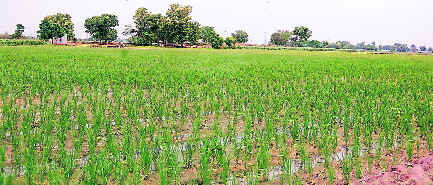 27 lakh hectares are under paddy cultivation in the state.

Chandigarh, August 9
Despite the delayed monsoon, Punjab has lived up to its "food bowl" reputation. Paddy plantation is coming to an end across the state and till date 27.15 lakh hectares of land has been sown under paddy. Last year the total area under paddy cultivation was 27.35 lakh hectares. "Despite deficient rains, we are not likely to register a fall of more than 10,000 hectares in the area under paddy as compared to last year," said Director, Agriculture, Punjab, BS Sidhu.
"Even though the rainfall during the kharif season was 70 per cent less than normal during May and June, and about 50 per cent in July, the targeted area under paddy, maize and cotton had been sown by the farmers, who had irrigated their fields by using diesel engines and generators," he added.
The area under basmati cultivation has gone up from 3.25 lakh hectares last year to almost five lakh hectares this year. "This is mainly due to the delayed monsoon and also because basmati fetched an attractive price last year," said Sidhu.
He added that the state would be able to achieve last year's level of 35.23 lakh hectares of area under paddy, cotton and maize despite the low amounts of rainfall this monsoon.
Almost 5.30 lakh hectares of cultivable land in Punjab is under cotton, while 1.60 lakh hectares is under maize and another .85 lakh hectares under sugarcane.
Punjab is India's fourth biggest rice producer in the country. West Bengal, Andhra Pradesh and Uttar Pradesh are the top three.
Recently Union Agriculture Minister Sharad Pawar had stated that a weak and erratic monsoon in various parts of the country would adversely affect the paddy crop, adding that the government was drawing up a contingency plan to deal with the situation.
On August 3, Punjab Chief Minister Parkash Singh Badal met Pawar and demanded a compensation of Rs 2,000 per acre to the farmers who had to incur substantial additional expenditure to sow their crops due to a scanty rainfall. The Chief Minister pointed out that due to the steep increase in the cost of irrigation, the farmers were likely to incur an additional expenditure of Rs 2,000-2,500 per acre to raise the paddy crop, depending upon the rainfall in these months.
Badal had pointed out that Punjab had created a large irrigation infrastructure out of its own resources for providing irrigation facilities to the farmers, thereby making its agriculture comparatively immune to calamities such as drought. He had added that the truant monsoon had created a drought-like situation in the state, but the farmers were not likely to get any relief from the Natural Calamities Fund as the definition of drought was based on "loss in yield" rather than "deficiency in rainfall".