The Department of Indian Theatre does a serious act by choosing quality over quantity
Is the art scene in the city going grim? No, we are not talking about performances or number of creative exhibitions, but an institutional decline. First it was the Government College of Art, which saw a thin number of applications for the admission this year and now, it is the Department of Indian Theatre, which against 20 seats found only16 suitable for the first year enrollment. What is the reason? Firang Sohni and desi Mahiwal! And that's how this love story was born…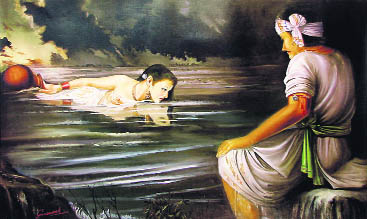 Imagine a British lady addressing Mahiwal as her beloved! Neither the looks gel with the script nor the accent. But this did not deter Mahendra Kumar, the chairperson of Department of Indian Theatre to enact Sohni-Mahiwal love lore at the foreign shore, Shropshire County in the UK to be precise. "I know theatre has no language barrier for the audience get the gist through costumes and action. But if someone can understand the dialogues as well, then it completes the treat. So, I picked up Sohni-Mahiwal and earlier Mirza-Sahiba to show the British that we have our own Shakespeares too," he says.

New bottle new wine
Teenage pregnancy, terrorism, an out-and-out actioner or a spooky jungle thriller-Bollywood newcomers like Shruthi Haasan, Ruslaan Mumtaaz and Arunoday Singh are opting for different themes and strong scripts rather than being lured by big banners and typical potboilers.



Spice up
Beauty basics
Beauty care and trends are related to changing seasons. And, there is nothing like a change, to make us feel good about ourselves. One of the easiest ways to express the changing season is through our choice of colours. It's not just with the clothes we wear, but also the colours we choose for our lips, eyes and nails. In summer we go for light, serene, pastel colours to for a subtle and cool style statement. The same goes for the nails too. Mamta Joshi brings out the granduer and soul of sufi music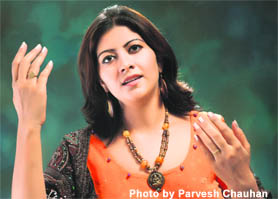 Blissfully unaware of the lyrical connotations and deep philosophical and spiritual content of songs, child prodigy Mamta preferred to sing Heer Waris or the utterances of Bulleh Shah and other Sufi saints while her class mates relished popular filmy songs at her school functions at Jalalabad in Punjab. As ordained, Mamta kept achieving excellence in the realm of folk, classical and sufi music in academics and performances. She was rightly hailed as a golden girl at the GNDU, winning six gold and silver medals each in various national music competitions. She also won the HRD ministry (Govt. of India) scholarship of Rs. 50,000.


Rest assured

These two milkmen surely know how to mix business with pleasure. Photo: Parvesh Chauhan

Romantic thoughts
Saadi arzoo da hor ki anjaam hona si / Asin badnaam na hunde teh phir gumnaam hona si.." That is how the Dehradun-based septuagenarian Punjabi poet Gurdip satires on the element of uncertainty influencing the life of a writer. Born with a flair for writing poetry, Gurdip did an extensive study of the English, Urdu and Hindi literature during his formative years at Kapurthala. Credited with seven publications of Punjabi poetry, mainly ghazals, and another Urdu ghazal collection in the offing, Gurdip was in the city to release his book Shey'r Arz Hai at Punjab Kala Bhavan. Former editor of Punjabi Tribune, Gulzar Sandhu performed the release ceremony while poet R.S. Cheema, former advocate general, Punjab spoke at the function organised under the aegis of the Kendriya Punjabi Lekhak Sabha. Neeraj Gandhi and Simranjit presnted ghazals from the book.
Be a bride
You're most welcome to get married! In tune with the business of being a bride or groom, Shaadi.com, the online marriage portal, bring Bride 'n' Beauty exhibition to the city. Showcasing all the paraphernalia of weddings, the exhibition will include apparels, handloom, honeymoon packages etc etc.


Beauty & the beach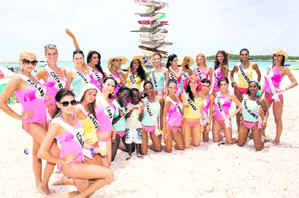 Contestants pose as they film a segment for the Miss Universe 2009 competition on Stocking Island, Exuma, Bahamas recently. Photo: Reuters

BODY wise
Combat cellulite
Cellulite! The very word makes us cringe. The truth is, there's nothing inherently harmful about cellulite; it's just body fat. What makes cellulite so loathed is its location and appearance. Cellulite occurs when body fat gets sandwiched into tiny pockets separated by strong, hair-thin threads called septa, which anchor skin to the muscle. If you thought you had wider, healthier options in organic food, then here's something to chew on…
On since years now, the debate doesn't seem to settle in the near future too. In fact, it recently hit the headlines once again after the study funded by the UK's Food Standard Agency found out that "Organic food is no healthier or provides no significant nutritional benefits when compared with conventionally produced food." As expected, the revelations have already made some pro-organic food fume and speak otherwise. We seek opinion from a faction of people in an attempt to conclude the debate, only if it will suffice.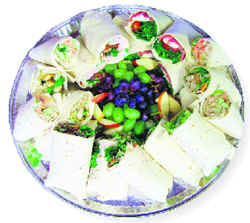 If studies are to be believed, going organic may not serve any purpose
Spotlight is once again on the 'in fashion' organic food following the recent study in the UK, questioning its nutritional value viz-a-viz traditionally grown vegetable. According to a recent study conducted by the London School of Hygiene and Tropical Medicine, "Organic food has no nutritional or health benefits over ordinary food." During the review, researchers found that organically and conventionally produced foods to be comparable in their nutrient content. For 10 out of the 13 nutrient categories analysed, they found there were no significant differences between production methods in nutrient content.

In the fitness of things
Buy natural?
Organic food costs 30 per cent more than the conventionally grown food but is unadulterated and grown naturally. Would you still prefer to have the conventionally grown food or change to organic?

Topping Twitter too
Bollywood beauty Priyanka Chopra has clinched the top spot on popular micro-blogging website Twitter with 22,365 followers, surpassing contemporaries like Gul Panag, Mallika Sherawat and director Karan Johar among others. The number of Chopra's followers is increasing by minutes, thanks to her regular 'tweets'.

Aniston now depends on her dog to sniff out Mr Right
Jennifer Aniston has employed her pet dog Norman to sniff out her prospective boyfriends. The Friends actress has told her pals that she is going to let her cherished dog to check out future beaus, so that she doesn't end up with the wrong man again. According to reports, Aniston's corgi-terrier crossbreed loved her ex-hubby Brad Pitt but would growl whenever her ex-boyfriend John Mayer was around her.

Hey Mr Architect
Brad Pitt has revealed his stress buster: architecture. "It's similar to puzzles in that way, like a crossword puzzle or anything else I can put my mind into. It's a relief for me," a website quoted him as telling a magazine. The Troy star added that designing buildings is his first love, which keeps him at peace.

Let me set it straight
Prince Harry's former girlfriend Chelsy Davy has denied claims her father's connection to rhino poaching in Zimbabwe. Speaking in her first ever-public statement, Chelsy said her father, one of the shareholders in the Bubye Conservancy, was wrongly accused of having connections to a poaching and trading cartel.

Fat frown!
Social stress could lead to heart disease by causing the body to deposit more fat in the abdominal cavity and could also speed up harmful plaque build-up in blood vessels, according to new research.