Shot circuit
From photo walks to photo talks, the 196 members of the Chandigarh Flickr Club are doing it all
It's a different kind of bond. No, you do not share what your girl friend said to you last night, or how your parents disappointed you one more time, or how you devised a new way to bunk office, or how you really like the guy who has just moved in next doors. And yet you share a picture of your world with the other person and it clicks!
City in cybersphere
City-related communities on Orkut or Facebook cover a wide domain from geris to bikes to dating
Chandigarh Geri Route, Sector11, Members-19019, the second highest number of members of any Chandigarh-related community on Orkut. To the 'esteemed' members, the community represents, "Those young hearts who travel endlessly through the roads of Sectors 10 and 11, where eyes meet and hearts skip a beat...." Created in May 2006, by a certain Rohit Chawla, the community celebrates the youngsters' love for Geri route and Chandigarh.


Sumeet Saidha is on Chandigarh Gals and Guys community

Hail & Hearty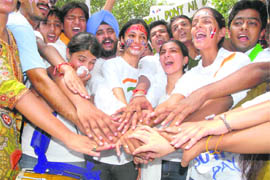 On the eve of International Youth Day, volunteers of Yes!+ Chandigarh take a pledge at the Sector 17 plaza. Photo: Vinay Malik
Jeep, zap, zoom…
SUVs are not their style. For these city guys, it's just jeeps
Multi-utility vehicles? Don't know, may be. Executive cars? Think Benz, Bentley, BMW three series…someday. Jeeps-sure! And that's for sure. Anything else…nah!
Familiar sight
A line of cars and boys with funky hairdos, you cannot miss DAV College
No asking directions, you know it from a mile as you approach DAV College-10. And, the 'line of cars' extending up to 1 km from the entry points notwithstanding! The geri boys, funky hairdos, even the weirdos, there's a buzz behind the college boundaries and something up the sleeve of everyone outside!

i tone
Day of reckoning
So, today is International Youth Day. We wouldn't be acknowledging the day, if it weren't for the young and the restless. What's one thing that characterises today's youth? Let's hear it from the horses' mouth.
Nazan's nazm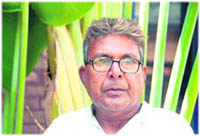 Music composer Yasin Nazan's take on qawwali, classical music and more
Ham subhah ke bhoolon ko pta ghar ka bta deh/ Aei Shah-e-Qalander hamein tu jeena sikha deh.. Leading this qawwali performance are actors Paresh Rawal and Om Puri in Road to Sangam, slated for all-India release on October 2. Next you can spot Yasin Nazan, singer music composer and a noted qawwal.
Discover India
Yeh Mera India (YMI), is a movie that attempts to explore the real stories behind the headlines that flash every day and night on TV channels revolving around violence and atrocities. "YMI discovers how the world keeps moving on, in spite of so much bias, which is actually the root cause of all problems," said film director N. Chandra.
Nothing comical
Children now have a choice when it comes to comics! Karan Vir Arora, managing director of Vimanika group, on Tuesday launched two action-packed issues Dashaavatar and The Sixth that based on Indian mythology and spirituality.
Shoo flu!
Bollywood falls victim to swine flu scare
Bollywood is the latest casualty of the swine flu scare, with shoots being cancelled and actors staying away from foreign locales in a bid to protect themselves from the pandemic.
Script superior
Bollywood newcomers prefer good scripts over big banners
Teenage pregnancy, terrorism, an out-and-out actioner or a spooky jungle thriller-Bollywood newcomers like Shruthi Haasan, Ruslaan Mumtaaz and Arunoday Singh are opting for different themes and strong scripts rather than being lured by big banners and typical potboilers.