M A I N N E W S
88 yrs on, Tricolour designer remembered
Suresh Dharur
Tribune News Service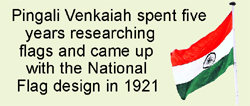 Hyderabad, August 13
During a meeting of the Indian National Congress (INC) at Vijayawada in 1921, an Andhra Pradesh youth approached Mahatma Gandhi and showed him design of a flag. Thus was born the Tricolour. But, it was over 88 years later that the designer of the National Flag, Pingali Venkaiah, finally got his due: A commemorative postal stamp has been released in the memory of the freedom fighter.
India Post (Philately) division has honoured Venkaiah by releasing the stamp, priced at Rs 5, on the occasion of his 132nd birth anniversary. The stamp was released by Chief Minister YS Rajasekhara Reddy at a simple function held at the state Secretariat here.
"The stamp will be priced at Rs 5 while the first day cover and information brochure will be for Rs 2 each. The stamps will be available at four GPOs, including Hyderabad, Kurnool, Visakhaptanm and Vijayawada," the Director of Postal Services, Hyderabad, M Venkateswarlu, said.
Pingali Venkaiah, who was born at Bhatlapenumarru village near Machilipatnam in Krishna district in 1876, had spent five years researching flags of over 30 countries and finally came up with the design for the National Flag in 1921. After Mahatma Gandhi approved the design, it was hoisted at all Congress sessions that followed.
In the meantime, another person, Hansraj from Jalandhar, suggested representation of 'charkha', symbolising progress and the common man. Gandhi amended and wanted one more addition of white strip to represent the remaining minority communities of India.
Finally, in 1931, the INC passed a resolution at its Karachi plenary and adopted the Tricolour -- saffron, green and white. The saffron colour represented courage, white for truth and peace and green for faith and prosperity. The dharma chakra, which appears on the abacus of Sarnath, the capital of emperor Ashoka, was adopted in place of spindle and string as emblem of the national flag.
After his initial education, Pingali Venkaiah worked as a railway guard and later went to Colombo to complete higher studies. After returning to India, he began research on flags and came up with his design. It was adopted with some modifications.